Law Firm Rules in Favor Of Speakeasy
O'Melveny & Myers' office bar makes case as permanent fixture.
Monday, August 3, 2015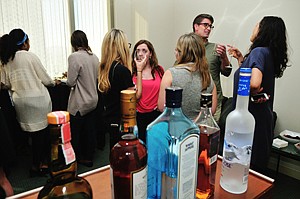 Two months ago, an associate at O'Melveny & Myers made a midday trip to Costco with a company credit card in hand. A few hours later, he returned to the firm's Century City headquarters with a load of vodka and whiskey, which he stashed in a vacant seventh-floor office.
Thus was born O'Melveny's very own in-house bar, known around the office as the Harrison.
Partners and associates alike call it a speakeasy, though it's less like a smoke-filled Prohibition-era watering hole and more like, well, a jury-rigged liquor closet furnished with a couch, some highboy tables and a desk stocked with booze and mixers.
Bo Pearl, managing partner of the Century City office, said attorneys had toyed with the idea of a private bar since January, when a popular associate, Harrison Whitman, left the firm to join Las Vegas fight promoter Top Rank Boxing. The speakeasy is in Whitman's old office.
"Harrison was a glue to this office, and when he left, we didn't want to just put another associate in his office," Pearl said. "The partners traditionally took turns doing happy hours but we decided now to make this a permanent speakeasy."
The Harrison, open only afer hours, has quickly become a hangout for
attorneys and staff, a place to toast big wins or mingle with co-workers. It even graduated from cheap supermarket
alcohol to the likes of Macallan 12 Scotch whiskey and Grey Goose vodka.
Now, the firm is planning to move the bar into a bigger, more permanent space that will look more like a lounge, part of planned renovations to the office. Pearl said the new office layout will feature more open spaces and common areas to make it feel more open and collegial.
"The plan is to get people out of their offices and come together in various areas of the office, whether it's in the commons or in the Harrison," Pearl said.
– Covey Son
For reprint and licensing requests for this article, CLICK HERE.