Disney Placed Hype on Hold
ENTERTAINMENT: Its D23 gets big events, not Comic-Con.
Monday, August 3, 2015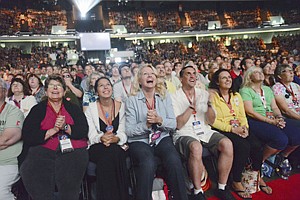 The Walt Disney Co. didn't pitch a single one of its upcoming Marvel or Pixar movies at San Diego's massive Comic-Con, opting instead to reveal them at its own fan fest, the D23 Expo, in Anaheim later this month.
The strategy behind skipping last month's hugely influential pop culture event in favor of Disney's own, smaller party? It's all about preaching to the converted and hogging the spotlight.
Instead of sharing a promotional marketplace with rival properties it doesn't own, such as Batman and "The Hunger Games," and trying to target a Comic-Con crowd not just there to see Disney products, the Burbank entertainment giant is betting that showcasing Marvel films and other projects at its own fan convention is the better way to guarantee great buzz and lots of it.
"It's invaluable to have an incredible core group of wonderful fans who are able to be terrific spokespeople for Disney, in their own way, by telling their friends and family, and sharing on social media, how passionate they are about things presented at our expo," said Jeffrey Epstein, spokesman for the D23 Expo. "The guests who come are the Marvel and Lucasfilm and Pixar and Disney faithful."
There's an important time element behind the strategy, too. The biggest Marvel film of the year, "Avengers: Age of Ultron," was released in May, months before Comic-Con, and the studio's "Ant-Man" came out less than a week after Comic-Con wrapped.
Ken Barr, a comics and collectibles dealer who covers conventions for L.A. podcast "Cultdom Collective," said that lack of additional releases this year meant any Marvel announcement might have been overshadowed by news about pictures hitting theaters sooner.
"There are no further Marvel films out until next year so any announcement they made risked being lost in the shuffle of more imminent releases," he said. "It was far better for Marvel to surrender the stage this time and keep the fans waiting in order to have perhaps even greater impact at D23 in mid-August."
That would also explain why one Disney property, its Lucasfilm subsidiary's "Star Wars: The Force Awakens," did present at Comic-Con. That film, expected to be a global blockbuster, is set for release in December.
Whether presenting at D23 or Comic-Con, Disney analyst John Janedis, who follows the company for New York brokerage and investment bank Jefferies, said he trusts that Disney executives know how to market their films. He noted that the entertainment giant has three of this year's six highest-grossing films, and had four of last year's top 10.
"Disney has really moved into a league of its own in terms of marketing its films and driving better-than-expected box-office results," Janedis said. "From that perspective, it makes a lot of sense to use its own convention as a marketing platform for its upcoming tentpoles. Disney has a massive fan base and by marketing their upcoming tentpoles to them we expect the success to continue."
Captive audience
D23, named for the year Walt Disney got his start, is the official fan club for Disney devotees. It was introduced in 2009, the same year as the first D23 Expo. Back then, Chief Executive Bob Iger said the goal was to "bring all things Disney under one roof."
The event has been held every other year since, and this fourth edition is poised to be the biggest one yet in terms of star power, attendance, square footage and ticket revenues. Using 1 million square feet of space at the Anaheim Convention Center for its exhibitions and presentations, every area of Disney's business will be featured, though big films will get the biggest platform, with star-studded interview and footage presentations in the center's 7,500-capacity Hall D.
Around 65,000 fans – about half of Comic-Con's 130,000 attendees – are expected to flock to the Aug. 14-16 event, each of them paying an average of $74 for tickets.
Marvel Entertainment will present a first look at its next superhero blockbuster, "Captain America: Civil War," which sees Avengers allies turned enemies as the titular character played by Chris Evans battles with Robert Downey Jr. as Iron Man.
Another Disney subsidiary, Pixar Animation Studios, will show off its upcoming slate including eagerly awaited "Finding Nemo" sequel "Finding Dory," featuring Ellen DeGeneres, and "The Good Dinosaur," which imagines an Earth where dinosaurs never became extinct.
Walt Disney Studios will unveil its own upcoming movie blockbusters such as "Alice Through the Looking Glass," which stars Johnny Depp in a sequel to 2010 hit "Alice in Wonderland," and a live-action version of animated Disney classic "The Jungle Book," starring Scarlett Johansson, Bill Murray and Ben Kingsley.
All other aspects of Disney's business empire will get a look, too, especially theme parks, with a special celebration of Disneyland's 60th anniversary, which is this year.
For reprint and licensing requests for this article, CLICK HERE.