Disney Placed Hype on Hold
ENTERTAINMENT: Its D23 gets big events, not Comic-Con.
Monday, August 3, 2015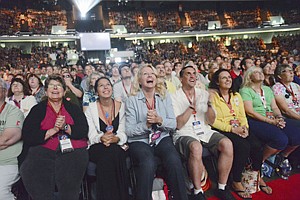 The Walt Disney Co. didn't pitch a single one of its upcoming Marvel or Pixar movies at San Diego's massive Comic-Con, opting instead to reveal them at its own fan fest, the D23 Expo, in Anaheim later this month.
The strategy behind skipping last month's hugely influential pop culture event in favor of Disney's own, smaller party? It's all about preaching to the converted and hogging the spotlight.
Instead of sharing a promotional marketplace with rival properties it doesn't own, such as Batman and "The Hunger Games," and trying to target a Comic-Con crowd not just there to see Disney products, the Burbank entertainment giant is betting that showcasing Marvel films and other projects at its own fan convention is the better way to guarantee great buzz and lots of it.
"It's invaluable to have an incredible core group of wonderful fans who are able to be terrific spokespeople for Disney, in their own way, by telling their friends and family, and sharing on social media, how passionate they are about things presented at our expo," said Jeffrey Epstein, spokesman for the D23 Expo. "The guests who come are the Marvel and Lucasfilm and Pixar and Disney faithful."
There's an important time element behind the strategy, too. The biggest Marvel film of the year, "Avengers: Age of Ultron," was released in May, months before Comic-Con, and the studio's "Ant-Man" came out less than a week after Comic-Con wrapped.
Ken Barr, a comics and collectibles dealer who covers conventions for L.A. podcast "Cultdom Collective," said that lack of additional releases this year meant any Marvel announcement might have been overshadowed by news about pictures hitting theaters sooner.
"There are no further Marvel films out until next year so any announcement they made risked being lost in the shuffle of more imminent releases," he said. "It was far better for Marvel to surrender the stage this time and keep the fans waiting in order to have perhaps even greater impact at D23 in mid-August."
That would also explain why one Disney property, its Lucasfilm subsidiary's "Star Wars: The Force Awakens," did present at Comic-Con. That film, expected to be a global blockbuster, is set for release in December.
Whether presenting at D23 or Comic-Con, Disney analyst John Janedis, who follows the company for New York brokerage and investment bank Jefferies, said he trusts that Disney executives know how to market their films. He noted that the entertainment giant has three of this year's six highest-grossing films, and had four of last year's top 10.
For reprint and licensing requests for this article, CLICK HERE.
Prev Next