Future Comes Down to Wire
FINANCE: Startup hopes to spur remittance shops to jump online.
Friday, April 24, 2015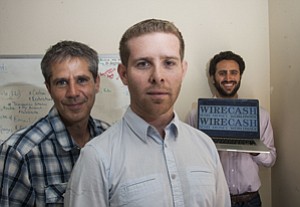 The airline ticket office was replaced years ago by websites and mobile apps. But the multibillion-dollar remittance industry is still as low tech as air travel was back in the days of in-flight smoking.
And that's where Santa Monica startup WireCash sees big dollars – and pesos, rupees and shekels, too.
The company, which went live March 31 – but whose technology had been in the works for years – is a virtual marketplace that offers money-transfer services on behalf of a handful of remittance shops that don't operate online. Users in the United States can use WireCash's website to send money from a checking account – and soon, a credit or debit card – to recipients overseas through partnerships with money-transfer companies, which provide the on-the-ground infrastructure in those destination countries.
Chief Executive Jonathan Cooper embraces the air travel analogy, comparing WireCash to Expedia Inc. in Bellevue, Wash., which allows prospective travelers to search for, compare and book flights all on a single site.
The company has already enlisted five money-transfer providers serving more than 60 countries, and Cooper has imminent plans to add more.
U.S. residents send about $120 billion overseas each year, according to the World Bank, and Cooper said nearly 75 percent of that sum is processed through offline companies. WireCash's mission is to make those money senders available the way most Americans prefer to shop nowadays – via the Internet – while taking a cut in the process.
"We see that these customers are moving – just like every other industry in America – online," Cooper said.
Live wire
WireCash began life as ATMCash.com, a joint venture among Cooper, WireCash co-founder and Chief Technology Officer Ran Grushkowsky and Cleveland's KeyBank.
Cooper and Grushkowsky – who started his first company, a DJ website, when he was 14 – developed a technology that allowed money to be transferred from the United States and picked up almost immediately at ATMs in various countries.
"We remitted millions of dollars to over 100 countries successfully and safely," Cooper said. "As a consequence, many of the offline money-transfer companies have come to us and asked us if we would provide services for them."
The joint venture lasted from 2009 until late 2012. Like many traditional banks, KeyBank did not view money remittance as a core business, and Cooper said that's why that partnership didn't progress further.
So, backed by more than $5 million from an institutional investor, Cooper and Grushkowsky launched WireCash. Logan Lemberger joined as vice president of business development in 2013.
For reprint and licensing requests for this article, CLICK HERE.
Prev Next