Clothing Firm Stretches Credit
FASHION: Suppliers in fits as American Apparel strays on pay.
Monday, April 6, 2015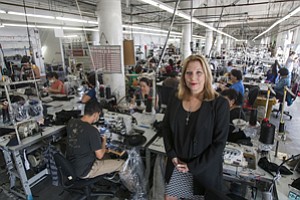 Downtown L.A.'s American Apparel Inc. has never been a prompt bill payer to its fabric suppliers, but those firms long overlooked the bad habit, knowing at least partial payment was just a phone call away.
But now, as checks from the clothing manufacturer arrive haphazardly in small amounts or not at all, and phone calls and emails go unanswered, some suppliers are losing their patience.
Since a new chief executive and new department heads have been installed at American Apparel, suppliers say the company has been later than ever, taking up to five months to pay off large balances. Orders, meanwhile, have dropped significantly from prior years, adding to suppliers' concerns.
Avi Mor, owner of Knit House in Vernon, does about $2 million a year in business with American Apparel, supplying the company with fabric for its winter lines for the past eight years. He said the company owes Knit House $180,000, about $80,000 of which is five months overdue.
Mor said American Apparel recently offered to pay up in one lump sum, but only if he gives a retroactive 10 percent discount. Even though that deal would essentially erase his profit margin, he's considering accepting because he questions whether the company will ever pay the full balance.
"This $180,000 is a losing proposition," Mor said. "I'm going to agree so I can get something, because I'm not going to get anything in the future, for sure."
An American Apparel spokeswoman said payments are less delayed now than they have been in five years. But buyers at the company acknowledged American Apparel has fallen short recently on paying its bills in full and on time, though they said things are improving as budgets become more structured under new management.
The new leadership at American Apparel includes a new chief financial officer, Hassan Natha, and chief executive, Paula Schneider. Schneider started in January, replacing founder and former Chief Executive Dov Charney, who was suspended in June and fired in December.
"We do purchase a lot of material, and for a while it was difficult to keep up with some payments, and some have fallen behind, but it's getting better," said American Apparel buyer Harry Matusow.
Trusted relationships
In the textile trade, American Apparel isn't alone in often delaying payments to vendors. But what made the company different, suppliers say, was that they could call Charney directly when bills were past due. He would commit to making at least a partial payment by a set date, and checks would always arrive as promised, Mor and other suppliers said.
"I could pick up the phone and talk to him, and he would take care of it," said a woven fabric supplier who did not want to give his name because he is concerned he might lose American Apparel's business if he spoke publicly. "When I used to ask for $150,000, I used to get $150,000. I don't know how it would happen, I just got paid."
Until early last month, American Apparel owed that supplier nearly $170,000, much of it at least three months past due, the supplier said. A check covering most of that figure arrived recently, but there is still a balance of close to $20,000.
Suppliers take a risk delivering their products before getting paid for them, but having the ear of a top executive helps ease suppliers' concern, the woven fabric supplier said. But now Charney is out and suppliers don't have relationships with Schneider or other new people at the company.
"With this new company and management, they don't communicate with us or our banks to give us confidence to extend (payment) terms or credit to them," the supplier said.
Esme Hecht, a senior jewelry designer for Gem-Craft Inc. in Cranston, R.I., which supplies jewelry sold by American Apparel, said the company owes Gem-Craft "in the midfive figures." His contact at American Apparel had long been Iris Alonzo, the company's former creative director. Since Alonzo was fired in February, Gem-Craft hasn't heard from the company.
"Now no one has responded to emails and phone calls, and it's been 120 days, and I don't know if we're ever going to get paid," Hecht said.
According to filings with the Securities and Exchange Commission as well as company press releases, American Apparel's accounts payable – the amount it owes to vendors – rose to $36 million for the period ended Dec. 31, up about $2 million from the previous quarter. However, that's an improvement from the previous year; the company owed about $38 million at the end of 2013.
Still, the company appears to be facing a cash crunch. Executives need to close a refinancing deal just to make interest payments due this month. The company last week said it will lay off 180 workers.
Meanwhile, unexpected costs have piled up: During the fourth quarter, the company paid $3.8 million in expenses related to an internal investigation into Charney, which has cost a total of $10.4 million since it was initiated last summer.
Purchasing changes
The payment delays and smaller orders that suppliers are seeing might be the result of some bigger changes at American Apparel.
Schneider, through a spokeswoman, said the company is trimming its inventory and organizing its retail stores to get rid of styles that haven't been selling.
"Under previous leadership, the company's inventory was bloated, with more than 4,000 product styles, many of which were not selling at all," she said. "We have taken steps to improve the company's profitability by reducing the number of styles in production, focusing on the products that have been proven to sell."
In addition, a new forecasting process has been put in place to better predict production needs and the company has hired a new vice president of planning and forecasting, she said.
John Chung, a raw material purchaser at American Apparel, said there's also been a new purchasing plan rolling out in phases over the past two years. It calls for making fewer but larger orders to take advantage of bulk pricing.
"Before, we bought at different times of the year, and we're now buying more in bulk and based on price," Chung said.
Under Charney, the company used to order materials without having a specific use in mind, and would then find something to make with it, Chung said. The company's new management wants to base orders and production on what is selling well. Instead of developing products based on available materials, the company is now more likely to take a hot-selling item and make it in new colors, sizes or prints.
"It's a much more targeted approach based on sales," he said.
Those changes won't affect American Apparel's creativity and fresh ideas, Schneider said.
"This is a core part of our DNA and will not change, no matter how many garments we produce," she said.
As for paying suppliers, buyer Matusow said he thinks things are improving with new finance chief Natha in place.
"I'm not trying to say it's fixed," Matusow said. "But we're on the road to fixing it."
For reprint and licensing requests for this article, CLICK HERE.