Punched Up
DirecTV boxing dons high-tech gloves, ditches ring
Saturday, April 4, 2015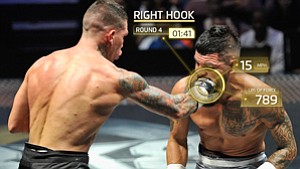 Directv is taking on the boxing establishment, launching a fight series the El Segundo satellite provider hopes will revolutionize the sport by drawing a much larger audience and greater pay-per-view profits.
In addition to doing away with ropes and setting the match in a smaller space, DirecTV will employ new in-glove technology that will allow viewers to see how fast blows come and how hard they land.
Chris Long, DirecTV's senior vice president of entertainment, said he came up with the concept for the Big Knockout Boxing series from, of all things, watching a Jean-Claude Van Damme movie on TV at home.
"I saw this film 'Bloodsport' and that was the impetus for BKB," he said. "I was fascinated that there were no ropes and fighters couldn't run anywhere. Boxing needs more excitement in our opinion, and we feel that spark will be provided by the nowhere-to-run format and the beautiful ballet of machinery accompanying it."
While the ringside judging will follow conventional rules – with the exception that boxers will have a point deducted for leaving the fight zone – viewers at home will be able to mark their scorecards with data displayed on their screens generated by StrikeTec, a technology that has been in development for five years.
The technology, which has not been employed by broadcasters before, was developed by EFD Sports in Florence, S.C. DirecTV put in an undisclosed amount of money to iron out kinks in the software in exchange for an exclusive license period for the technology. It would not be more specific.
"DirecTV has spent a lot of their time and money to bring this product to life so we can track data in less than a quarter of a second and make a lasting impact on boxing, and perhaps other sports in the future," said Wes Elliott, EFD's chief executive. "Boxing was a sport being left behind by technology, but now it can be driven off stats and science."
With DirecTV's contribution, the software, which syncs data from sensors in the gloves via Bluetooth to a broadcast truck, was able to be ready for the broadcaster's April 4 BKB debut pay-per-view event in Las Vegas.
While Long would not disclose how much had been spent developing the technology, he was happy to talk about the $29.99 pay-per-view cost of BKB events.
"We're trying to attract people to test out a new product, so we didn't want to make the price unattractive," said Long, who oversees all sports coverage for DirecTV. He said the price was in a "sweet spot" for more consumers and that as many as six more BKB fights would be scheduled over the course of the year.
Prev Next
For reprint and licensing requests for this article, CLICK HERE.