Punched Up
DirecTV boxing dons high-tech gloves, ditches ring
Saturday, April 4, 2015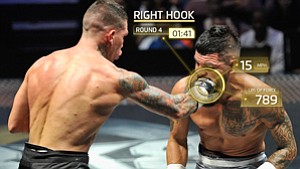 Directv is taking on the boxing establishment, launching a fight series the El Segundo satellite provider hopes will revolutionize the sport by drawing a much larger audience and greater pay-per-view profits.
In addition to doing away with ropes and setting the match in a smaller space, DirecTV will employ new in-glove technology that will allow viewers to see how fast blows come and how hard they land.
Chris Long, DirecTV's senior vice president of entertainment, said he came up with the concept for the Big Knockout Boxing series from, of all things, watching a Jean-Claude Van Damme movie on TV at home.
"I saw this film 'Bloodsport' and that was the impetus for BKB," he said. "I was fascinated that there were no ropes and fighters couldn't run anywhere. Boxing needs more excitement in our opinion, and we feel that spark will be provided by the nowhere-to-run format and the beautiful ballet of machinery accompanying it."
While the ringside judging will follow conventional rules – with the exception that boxers will have a point deducted for leaving the fight zone – viewers at home will be able to mark their scorecards with data displayed on their screens generated by StrikeTec, a technology that has been in development for five years.
The technology, which has not been employed by broadcasters before, was developed by EFD Sports in Florence, S.C. DirecTV put in an undisclosed amount of money to iron out kinks in the software in exchange for an exclusive license period for the technology. It would not be more specific.
"DirecTV has spent a lot of their time and money to bring this product to life so we can track data in less than a quarter of a second and make a lasting impact on boxing, and perhaps other sports in the future," said Wes Elliott, EFD's chief executive. "Boxing was a sport being left behind by technology, but now it can be driven off stats and science."
With DirecTV's contribution, the software, which syncs data from sensors in the gloves via Bluetooth to a broadcast truck, was able to be ready for the broadcaster's April 4 BKB debut pay-per-view event in Las Vegas.
While Long would not disclose how much had been spent developing the technology, he was happy to talk about the $29.99 pay-per-view cost of BKB events.
"We're trying to attract people to test out a new product, so we didn't want to make the price unattractive," said Long, who oversees all sports coverage for DirecTV. He said the price was in a "sweet spot" for more consumers and that as many as six more BKB fights would be scheduled over the course of the year.
Potential headache
But while the fight series might be more entertaining than traditional pugilism, concerns have been raised that it might be more damaging to the health of the boxers themselves, which has created a potential roadblock for DirecTV's plans to bring bouts to Los Angeles.
At 17 feet wide, the sunken fighting pit is about half the size of a regular boxing ring.
"The public want to see more brutality, but that shouldn't be at the expense of safety," said neurosurgeon David Hovda, director of the UCLA Brain Surgery Center. "I'm worried about the people putting on these shows making the sport less safe for its athletes. I realize this may be due to economic issues but if the fight fan wanting to see more knockouts equals an increase in blows to the head, which could cause injury to the brain, then it speaks poorly to our assessment of boxing that we're willing to sacrifice safety for entertainment and profit."
Alex Kaplan, DirecTV's senior vice president of marketing, countered that BKB would adhere to all of boxing's safety and medical regulations, including having ringside physicians, emergency medical staff and experienced referees on hand to monitor the health and safety of the fighters.
"Safety is taken seriously by BKB," he insisted. "Since there are no ropes, the fighters are not backed into a corner where they typically sustain the highest volume of punches. The pit also features a padded area known as the safety zone where fighters can retreat at any point when they feel the need."
Five-time world heavyweight champion Evander Holyfield, part of DirecTV's BKB broadcast team, is a fan of the new format and sees it as a game-changer for the sport.
"I think BKB can help the popularity of conventional boxing by drawing fans in," he said. "I just wish in-glove technology had been available when I was boxing because then fans would have really known how hard guys like myself, Mike Tyson and George Foreman actually hit."
Those thoughts are echoed by another retired former world champion, Pomona puncher "Sugar" Shane Mosley, who has turned trainer and spent recent weeks preparing Curtis Stevens for his April 4 BKB main event middleweight bout with Gabe Rosado. The card also includes former World Boxing Organization, World Boxing Association and World Boxing Council champs.
"I believe the technology and tactics used in BKB will help create more personalities in our sport and that's important because to make boxing hugely popular again, there needs to be more big names other than just its two big stars, Floyd Mayweather and Manny Pacquiao," Mosley said.
None of the BKB events planned for the next year has been scheduled in Los Angeles, but DirecTV say it is part of the company's long-term plan to apply for a license to eventually bring fights here.
Louis Perry, an inspector for the California State Athletic Commission who travels the state watching fights and ensuring everything is done safely and within the rules, said it would be up to the commission to say yes or no to BKB in Los Angeles. Assessing health risks would be the basis for the decision.
"Anything that brings more revenue to L.A. is a good thing, and big fights certainly do that," said Perry, who is also president of Encino's Kadima Security Services. "But the safety of the fighters is our No. 1 priority, and there is no No. 2. As long as there's no safety risk then I'm all for these changes in the sport."
In addition to fighting in a smaller space and having the blows tracked at home, BKB bouts are briefer: rounds last just two minutes instead of three and there are seven, not 12, in each bout. DirecTV will place 17 cameras around the arena.
"I don't claim this redesign will save boxing on TV, but we're certainly going to make it more exciting and intense," said Long.
What is clear is that boxing fans will pay big money to see the most exciting fighters.
DirecTV won't say what it is projecting for sales of the inaugural fight card, nor what its long-term viewership goals are. According to Nielsen Media Research, recent fights on HBO range from 700,000 to 1.3 million viewers, and the hotly anticipated May 2 clash between Mayweather and Pacquiao is expected to set a pay-per-view revenue record.
The current record is $152 million for Mayweather's 2013 fight with Saul "Canelo" Alvarez, which was purchased by over 2 million viewers at $65 for standard definition and $75 for high definition. A price to watch the May 2 clash of superstars has not yet been set but, according to reports, it is expected to be $89 for standard definition and $99 for HD, which would be a new high.
For reprint and licensing requests for this article, CLICK HERE.