Memberships Make Cut At Salon
Society uses monthly fees to keep prices out of customers' hair.
Monday, September 29, 2014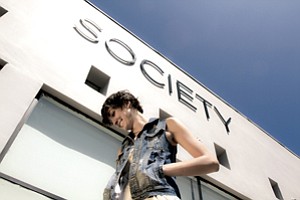 A salon with a name like Society sounds exclusive and pricey, but L.A.'s first and only membership-based hair salon is anything but.
Founder Sam DiVine, 24, landed a gig as an assistant at celebrity hairstylist Sally Hershberger's salon after taking a 9-month stylist's course fresh out of high school. (Hershberger is famous – or infamous – for her $800 shag haircut.) There, DiVine snipped Mark Ruffalo and Kate Hudson's locks. But when she'd meet, say, regular people and give them her business card, their faces fell.
"They'd look at the name on my card and say, 'Oh... I can't afford that,'" DiVine said.
So the young entrepreneur set out on her own, recently opening Society in West Hollywood. In addition to traditional services, it offers a membership model. There are three levels for women, ranging from $80 to $180 a month, and one $60-a-month offering for men. All include unlimited services – even color.
DiVine formed Society with business partners Ashley De Azevedo and Bridget Toscano in response to what DiVine calls a "broken" salon industry. Not only does Society attempt to take business back from trendy dry bars (the services also include unlimited blow-outs), but it's designed to give women and men an affordable yet high-end experience.
"We're giving them access to that transformative feeling every day," DiVine said. "And you don't feel guilty when you walk out of the salon."
– Cassie Paton
For reprint and licensing requests for this article, CLICK HERE.