Chinese Investor Makes Move on Burbank Media
ACQUISITION: Property aimed at entertainment tenants sells for $22 million.
Monday, September 22, 2014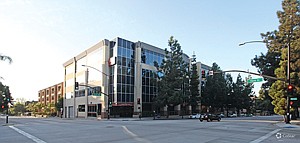 Burbank Civic Plaza, a Class A office building in the city's civic center, has sold to a Chinese investment group for $22 million, or about $287 a square foot.
Creative International Investments Inc. purchased the 80,000-square-foot building at 250 E. Olive Ave. from Cusumano Real Estate Group of Burbank. Built in 2005, the four-story building features underground parking and about 14,000 square feet of ground-floor retail. The newest addition to the downtown Burbank market, the building was about 91 percent occupied at the time of sale.
Lucy Lu, chief executive of Creative International, said the company acquired the property in an effort to gain a foothold in the L.A. media market. The company expects to use remaining space in the building as an incubator for Chinese media and entertainment companies.
"The media and entertainment industry in China is developing more quickly than in the U.S.," Lu said in an email. "We would love to be the bridge for these Chinese companies to have a presence in Burbank."
Drew Sugars, a spokesman for the city, said that because Burbank has the necessary infrastructure to support media and entertainment companies, it's only natural those from China and other international markets would be drawn there.
"We have our own power company, and they've laid down an incredible fiber optic network throughout the city," he said. "It's been very beneficial for a lot of companies here in town."
Tenny Tsai, a senior vice president at Cassidy Turley, represented the buyer in the deal, along with Danny Yu, Suzanne Lee and Jake Dederer of Cassidy Turley's Asian-American Strategic Investment Advisors group. CBRE Group Inc. represented the seller.
Multifamily Millions
A 60-unit apartment complex just five blocks from the beach in Santa Monica sold last month for $26.5 million, or nearly $442,000 a unit.
Local multifamily landlords Thomas Yu and May Ling Yu of MLT Properties purchased the low-rise property at 3111 Fourth St. on Aug. 15 from a joint venture of M West Holdings of Sherman Oaks and GreenOak Real Estate of New York.
Though apartment buildings with 20 or fewer units routinely sell for more than $440,000 a unit in the beachside city, it's rarer for larger buildings to reach that price. Only two other apartment buildings in the area with 50 or more units have ever sold for more. In 2010, a 52-unit building at 456 Santa Monica Blvd. sold for nearly $502,000 a unit; two years later, a 350-unit building at 2200 Colorado Blvd. sold for about $480,000 a unit.
Built in 1971, the Class C building on Fourth features 30 one-bedroom units and 30 two-bedroom units that range in rent from $1,800 a month to $3,200, according to CoStar Group Inc. The sellers recently spent $1.5 million to upgrade 19 of the units and build a rooftop sundeck. While there is a fitness center and coin-operated laundry on site, parking is limited to 36 spots.
Greg Harris, executive director of Marcus & Millichap's Institutional Property Advisors division, represented the seller in the deal. He said the hot Santa Monica rental market, where rents rose on average by 8.5 percent in the last two years, was a major selling point for the property.
"The new owner is in an excellent position to benefit from continued rent growth and may add value by continuing the renovation program on the remaining 41 units," he said.
Kevin Green and Joseph Grabiec of Institutional Property Advisors also represented the seller in the deal.
Venice Zeal
Danny Zappin, co-founder and former chief executive of Maker Studios Inc., has cinched coveted creative space in Venice for a fledgling digital media studio.
Zealot Networks signed a five-year lease late last month for about 3,600 square feet at 660 Venice Blvd., a two-building property that was until last year occupied by New York art gallery L&M Arts.
The late-August lease deal came concurrently with the sale of the small red-brick creative campus to a private family investor from Santa Monica for $4.55 million. Terms of the lease deal were not disclosed.
Built in 2008, the compound sits on the site of L.A. author Ray Bradbury's childhood home. The dilapidated bungalow and a nearby electrical building were razed to make way for the gallery, which was designed by Culver City architect Kulapat Yantrasast of Why Architecture Inc.
Daniel Pickard of Pardee Properties, who represented the buyer in the purchase of the Venice property and then again in the lease deal, said he started pitching the property to tenant brokers as soon as he learned his clients wanted to lease it.
"As soon as we removed contingencies, we started negotiating the lease," he said, "and because Venice is such a tight market, we were able to find someone pretty quick."
Zappin launched Zealot last month after receiving $25 million in funding from a group of investors, including 15 former and current Maker employees.
Blake Searles of Jones Lang LaSalle Inc. represented Zealot and Rick Hilton and Laura Kalb of Hilton & Hyland represented the seller in the property sale.
Staff reporter Bethany Firnhaber can be reached at bfirnhaber@labusinessjournal.com or (323) 549-5225, ext. 235.
For reprint and licensing requests for this article, CLICK HERE.