Chinese Investor Makes Move on Burbank Media
ACQUISITION: Property aimed at entertainment tenants sells for $22 million.
Monday, September 22, 2014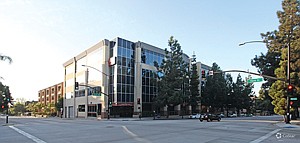 Burbank Civic Plaza, a Class A office building in the city's civic center, has sold to a Chinese investment group for $22 million, or about $287 a square foot.
Creative International Investments Inc. purchased the 80,000-square-foot building at 250 E. Olive Ave. from Cusumano Real Estate Group of Burbank. Built in 2005, the four-story building features underground parking and about 14,000 square feet of ground-floor retail. The newest addition to the downtown Burbank market, the building was about 91 percent occupied at the time of sale.
Lucy Lu, chief executive of Creative International, said the company acquired the property in an effort to gain a foothold in the L.A. media market. The company expects to use remaining space in the building as an incubator for Chinese media and entertainment companies.
"The media and entertainment industry in China is developing more quickly than in the U.S.," Lu said in an email. "We would love to be the bridge for these Chinese companies to have a presence in Burbank."
Drew Sugars, a spokesman for the city, said that because Burbank has the necessary infrastructure to support media and entertainment companies, it's only natural those from China and other international markets would be drawn there.
"We have our own power company, and they've laid down an incredible fiber optic network throughout the city," he said. "It's been very beneficial for a lot of companies here in town."
Tenny Tsai, a senior vice president at Cassidy Turley, represented the buyer in the deal, along with Danny Yu, Suzanne Lee and Jake Dederer of Cassidy Turley's Asian-American Strategic Investment Advisors group. CBRE Group Inc. represented the seller.
Multifamily Millions
A 60-unit apartment complex just five blocks from the beach in Santa Monica sold last month for $26.5 million, or nearly $442,000 a unit.
Local multifamily landlords Thomas Yu and May Ling Yu of MLT Properties purchased the low-rise property at 3111 Fourth St. on Aug. 15 from a joint venture of M West Holdings of Sherman Oaks and GreenOak Real Estate of New York.
Though apartment buildings with 20 or fewer units routinely sell for more than $440,000 a unit in the beachside city, it's rarer for larger buildings to reach that price. Only two other apartment buildings in the area with 50 or more units have ever sold for more. In 2010, a 52-unit building at 456 Santa Monica Blvd. sold for nearly $502,000 a unit; two years later, a 350-unit building at 2200 Colorado Blvd. sold for about $480,000 a unit.
Prev Next
For reprint and licensing requests for this article, CLICK HERE.