Carwash Buyer Arrested for Money-Laundering
LEGAL: Investor among group accused in alleged drug cartel scheme.
Monday, September 15, 2014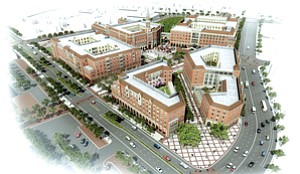 A downtown L.A. investor who recently purchased a prominent South Park development site was among those arrested last week when federal agents raided the Fashion District in connection with an alleged money-laundering scheme for international drug cartels.
Morad Ben Neman, 54, was arrested Sept. 10 after being named in one of three indictments unsealed by the Department of Justice. Chief executive of a fashion company called Pacific Eurotex Corp., Neman was arrested with three others connected to the company, including his brother Hersel Neman, 55, and brother-in-law Mehran Khalili, 45.
The indictment alleges that Neman and the others laundered roughly $370,000 in cash for an undercover agent who posed as a money courier. Some of the money even appeared to be "spattered with blood," according to a statement by the U.S. Attorney's Office.
Neman's arrest comes four months after his Neman Real Estate Investments closed on the $25 million purchase of the carwash across Olympic Boulevard from L.A. Live. At the time, he was said to be planning a 476,000-square-foot mixed-use project that would include condominiums and hotel rooms.
Neman did not respond to a request for comment, and it was not clear how plans for the carwash property, already fully entitled, might be hindered by his indictment.
Matthew Sullivan, a managing director for Lee & Associates who knows Neman personally, said the indictment could prevent him from doing business with Neman in the future.
"He made an offer on one of my properties downtown – I just talked to him last week," Sullivan said. "But if he was indicted on a federal basis, we can't do business with him because banks won't do business with him."
Assistant U.S. Attorney Julie Shemitz said Neman and his brother each posted $500,000 bond and were released from federal custody. Brother-in-law Khalili was released on a $50,000 bond.
The defendants were expected to be arraigned at Edward R. Roybal Federal Building and United States Courthouse on Sept. 15.
Price Check
When Chinese commercial property developer Wanda Group announced last month that it had purchased the beleaguered former Robinsons-May site, the company did not disclose a price.
Last week, however, an attorney for the seller, Joint Treasure International, confirmed the price was significantly more than original estimates of a mid-$300 million price range.
Tony Natsis, a partner with Century City law firm Allen Matkins, said the coveted eight-acre parcel at 9900 Wilshire Blvd. traded in the low-$400 million range, more than $250 million above the $148 million paid for the property in 2011 by Joint Treasure, a Hong Kong private equity firm.
Prev Next
For reprint and licensing requests for this article, CLICK HERE.