Work/Life Balance: Jodi Guber Brufsky and Michelle Wahler
The founders of Beyond Yoga on babies and dogs in the office, morning workouts and how an ocean view helps with focus.
Friday, October 31, 2014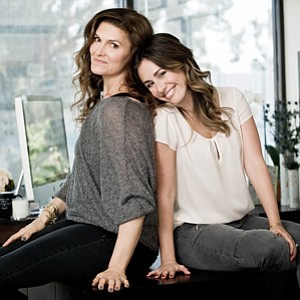 In 2006, Jodi Guber Brufsky and Michelle Wahler founded Culver City's Beyond Yoga, a line of clothing designed by Brufsky to transition from workouts to leisure. Today, Beyond Yoga has 25 in-house employees in addition to sales representatives across the country, and its clothes are sold in department stores such as Nordstrom and fitness studios such as Yogaworks. As chairwoman and chief creative officer, Brufsky, 46, designs the clothing and leads the direction of the brand, while Wahler, 35, who is chief executive, spends her days overseeing all aspects of the business including production, marketing, and sales. We spoke with the two founders about how they make time to – obviously – do yoga while managing their demanding careers.

Question: Describe your morning routine.
Answer: Brufsky: Can you tell me? It's always different. I'm a step mom so it depends on whether the girls are here. If they are, I drive the 12 year old to the school bus. I workout in the morning, always. That's the number one priority that I don't give up because it makes me sane. I have the same breakfast every day: a millet bowl with fruit, walnuts, and coconut nectar. Then, some days I work from home here in Malibu and some days I work from the office or go to fittings and design meetings.
Wahler: Most days, I am up around 6 a.m. and I read emails in bed for 30 minutes – and I use that for extra cuddle time with my dog. Then I do my morning workout. Four days a week I do pilates, at the Studio MDR, which is a five minute drive away from me in Marina del Rey. I'm in Venice. The other three days, I do yoga. Then I rush home, take a shower, feed the dog, and rush off to work. I get in around 9:15 a.m. Every day is completely different. There is no routine after that.
What helps you juggle your workload?
Wahler: My best tactic is that every Monday and Tuesday I meet with department heads and have a formal touch-base with each of them. There's a technology that we use call Asana, a task management program, and that helps. I assign things through it and it ensures that everyone knows my expectations of them. Over the last 12 months, we've also been working on building out our team. That does a lot to help me juggle: hiring strong people to take over elements of the company that I used to take on myself. It never feels like a juggle because I love what I'm doing. I'm working with people who I enjoy spending time with and we have a warm, family environment. I bring the dogs to work with me, and one of my favorite things to do is have a meeting on a walk. We happen to work near a beautiful park.
Prev Next
For reprint and licensing requests for this article, CLICK HERE.