Dodgers Owner Heads to Minors
SPORTS: Farm team could field innovations for L.A. squad.
Monday, October 27, 2014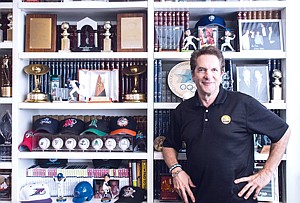 Los Angeles as an incubator for Oklahoma City? Or is it the other way around?
Since the owners of the Los Angeles Dodgers purchased the Oklahoma City RedHawks last month, they will be able to tinker more closely with what is now the team's triple-A affiliate. They can test various strategies that could find their way to Los Angeles and at the same time send down some proven techniques that could boost sales there.
"Oklahoma City can be a more profitable venture with the Dodgers," said Peter Guber, a minority owner of the Dodgers and, now, the controlling shareholder in the Oklahoma City team. "We want to use the model that the Dodgers use here and have the financial capital to move more merchandise, provide better food service and have better in-stadium graphics. We're meeting with the city to decide on improvements for the stadium."
With the transactions, the RedHawks, which had been affiliated with the Houston Astros, will now be the triple-A affiliate of the Dodgers and renamed the Oklahoma City Dodgers. The Dodgers old triple-A affiliate in Albuquerque, N.M., will now be affiliated with the Colorado Rockies.
At the same time, the Dodgers' old double-A affiliation that was in Chattanooga, Tenn., will move to Tulsa, Okla., but that team is not owned by Guber's group.
In a way, Guber, who's best known as a movie producer, sold the Oklahoma City team to himself. The RedHawks had been owned by Mandalay Baseball Properties, a subsidiary of Guber's Mandalay Entertainment Group. Earvin "Magic" Johnson another co-owner of the Dodgers, was also a partner in Mandalay Baseball.
The buyer of the Oklahoma City team is a group led by Guber but composed of other owners of the Los Angeles Dodgers, including Mark Walter, Stan Kasten and Johnson.
As part of the transaction, Guber got a 50 percent stake in the minor league club and will play an active role in its operations. Other terms of the deal were not disclosed, but local reports said the team sold for about $24 million.
The acquisition of the RedHawks comes as minor league baseball has become a major industry, with teams investing in multimillion-dollar stadiums that hold more than 10,000 fans. And while returns are much lower than those from a Major League Baseball franchise, Guber said a well-run minor league franchise can earn between $2 million and $5 million annually.
Major league teams own the contracts of the minor league players and control their movement, but the big teams generally stop there.
"Most major league teams do not want to run a minor league team's day-to-day operations, but you learn a lot about fans, players and people," said Guber.
Operators can experiment with marketing efforts, ticket promotions and the like as well as import successful strategies to the big club. Fans are fans, for the most part; an initiative that's successful in Oklahoma City might well work anywhere else.
"A fan doesn't consider themselves a minor league person. They expect the same experience that you get at Fenway Park," he said.
At the same time, some of the lessons learned in Los Angeles – music, merchandise, food options – could be sent down to the minors.
"It was the opportunity to own and have control over our top minor league affiliate, in a great, thriving minor league city, with an excellent facility," Kasten, Dodgers chief executive, said in an email. "We were able to do all that with perhaps the best minor league operator in all of baseball who was already a close friend and partner."
Timed sale
The sale came as Mandalay Baseball, which owned six minor league teams, was liquidating its holdings. That's because Mandalay was backed by Seaport Capital, a New York private equity firm that primarily invests in media and communications companies. With Seaport ready to close the fund that was invested in the clubs, Mandalay began seeking buyers.
"The investment bank had to monetize its position," said Guber. "We sold the teams at record prices."
One team Mandalay sold earlier this month was the single-A Dayton Dragons in Ohio, an affiliate of the Cincinnati Reds. Its reported $40 million price was a record for a team at that level of baseball. The Dayton franchise has sold out more than 1,000 consecutive games since the Guber group purchased it in 2000.
"Peter Guber has a proven track record of maximizing value in the sports industry in every level. He's highly regarded in the industry as a filmmaker but is also someone that understands how to get the most out of sports properties," said Jeff Marks, managing director at sports sponsorships sales firm Premier Partnerships in Santa Monica. "Look at what he did with the Golden State Warriors (which Guber co-owns). Sponsorship, ticketing and concessions are off the charts and they are exploring a brand-new arena in San Francisco."
Guber purchased his first piece of a minor league team, the Lake Elsinore Storm, in 1996. Although he failed in bids to purchase the Los Angeles Kings, Miami Heat and Oakland Athletics, he has since owned more than 10 minor league baseball and hockey teams. He remains an investor in the Warriors of the National Basketball Association as well as the Los Angeles Dodgers.
He has also been rumored to be interested in owning a Major League Soccer club, but declined to comment other than to say he would evaluate opportunities to purchase other sports properties in the future.
Guber, who made his name as a producer of dozens of films, including "Rain Man," "Batman," "The Color Purple," "Midnight Express" and "Gorillas in the Mist," also ran Sony Pictures for a time.
Sports, he said, is similar to film in that success depends on an understanding of the business, not just an affinity for the product.
"I have Oscars, Grammys and all kinds of awards. The awards are just symbols. You have to understand the whole process. You can be a fan of the sport, but recognize that you're in a business," he said. "It's a wonderful enterprise if you love sports and location-based entertainment. It has to be run as a business, not a hobby. It will be a very expensive hobby."
For reprint and licensing requests for this article, CLICK HERE.