Brokerages Come Together in Consolidation Trend
REAL ESTATE: No money to change hands in merger of Travers Realty, Cresa.
Monday, October 27, 2014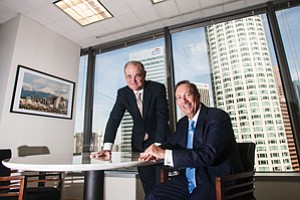 After more than 30 years as competitors, two well-known L.A. brokerage firms will merge next month.
Travers Realty Corp. of downtown Los Angeles will merge into the L.A. arm of Boston-based Cresa Partners, which has offices in Brentwood and Woodland Hills. The firms' Newport Beach offices will also consolidate.
The newly united firms will together have nearly 150 employees and will maintain all Cresa offices as well as Travers' downtown office. The entity will eventually operate under the Cresa name, though for up to two years Travers' downtown office will go by Travers Cresa.
Gerald "Jerry" Porter, a Cresa founding principal, said no money will trade hands as part of the pending merger. Jim Travers, founder and chairman of Travers, will take an equity stake in Cresa Partners of Los Angeles Inc., as will his partners at Travers.
"Once we got past the fact that we're competitors, we said, 'Why don't you join us? Then you have all the benefits of our platform. We'll be bigger and we'll just share our equity,'" Porter said. "We're not writing a check for anything, we're just merging."
The agreement comes as the commercial real estate industry has seen a lot of consolidation nationwide. Washington, D.C.-based brokerage firm Cassidy Turley last month agreed to be sold to a consortium of private equity investors that earlier this year acquired London firm DTZ Holdings. Savills of London also agreed earlier this year to merge with New York's Studley Inc., while Newmark Grubb Knight Frank of New York continues to grow through acquisitions.
Travers said he's fended off acquisition offers for years now, but finally decided to agree when he found a good match with Cresa. He said the two firms share values and he could benefit from Cresa's decidedly larger platform. Both firms specialize in representing tenants exclusively in lease transactions, rather than also representing landlords, which can be seen as an unavoidable conflict of interest for full-service firms.
Cresa formed as an alliance of independent firms in 1993 and became one company in 1997. It now has more than 1,000 brokers nationwide and offers a wider range of services than Travers, including strategic planning, project management, facilities management and lease administration.
"The world has been consolidating, as many know, so this gives us a stronger, better base, but most important, it keeps me in the same mindset," Travers said.
Avoiding conflicts
The merger of two tenant representation firms comes in the wake of Gov. Jerry Brown's signature in August on a bill requiring commercial brokers to disclose in writing to potential clients whether or not they might also represent the other side in a transaction. The bill, SB 1171, is technically a revision of a law that has since the early '80s required the same disclosures from residential real estate brokers.
Prev Next
For reprint and licensing requests for this article, CLICK HERE.