New Life
Bioscience incubator homes in on CSULA
Monday, October 20, 2014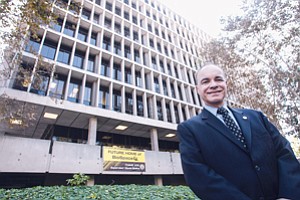 A long-stalled bioscience incubator on L.A.'s Eastside appears to be back on track – but at a new site, and with bigger ambitions.
After years of trying to develop an incubator for biotech startups in the old Los Angeles County-USC Medical Center building, the county is now planning to put it at Cal State Los Angeles. And industry executives and county officials hope the incubator, BioSpace LA, will become the centerpiece of a three-mile bioscience corridor that's now being marketed to developers.
Late last month, the Los Angeles County Board of Supervisors approved $3.5 million in funding for the incubator, to be located inside a mostly vacant science building on the Cal State L.A. campus. Startup companies housed in the incubator would pay reduced or no rent; have access to lab space; and get help with research, marketing and business plans from incubator staff.
Project backers, including Supervisor Gloria Molina, hope the incubator will help transform the gritty corridor between Cal State Los Angeles and the County-USC complex into the region's premier biomedical center.
Molina, who represents the area, has hired downtown L.A. consulting firm Estolano LeSar Perez Advisors to market properties in the corridor to developers with the hope of bringing in biomedical firms. One of the largest biomedical firms already on the corridor, blood plasma products maker Grifols, has already been active in the marketing effort.
"The area may look tired and worn now," Molina told the Business Journal last week, "but with state-of-the art lab space and opportunities for researchers, we hope this will get us a hook into this industry that is growing so fast. In the process, we hope to create good-paying and stable jobs."
Failed efforts
The quest for an Eastside bioscience incubator and corridor started in 2000, when the county and the USC Keck School of Medicine announced plans for a 100-acre biotech park near County-USC. But the proposal ran into several obstacles, including the county's unwillingness to relocate a juvenile justice facility and squabbling between city and county redevelopment agencies, which would have put in much of the money for infrastructure improvements. After numerous reboots, the plan collapsed for good in 2012 when Gov. Jerry Brown pulled the plug on redevelopment agencies.
Another plan, one that called for Culver City business advisory group Momentum Biosciences to create an incubator in the historic – and vacant – County-USC medical center building, also fell through. Organizers said it would have cost too much to renovate the building, which opened in 1933.
For reprint and licensing requests for this article, CLICK HERE.
Prev Next