New Life
Bioscience incubator homes in on CSULA
Monday, October 20, 2014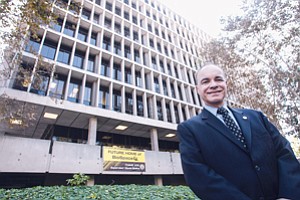 A long-stalled bioscience incubator on L.A.'s Eastside appears to be back on track – but at a new site, and with bigger ambitions.
After years of trying to develop an incubator for biotech startups in the old Los Angeles County-USC Medical Center building, the county is now planning to put it at Cal State Los Angeles. And industry executives and county officials hope the incubator, BioSpace LA, will become the centerpiece of a three-mile bioscience corridor that's now being marketed to developers.
Late last month, the Los Angeles County Board of Supervisors approved $3.5 million in funding for the incubator, to be located inside a mostly vacant science building on the Cal State L.A. campus. Startup companies housed in the incubator would pay reduced or no rent; have access to lab space; and get help with research, marketing and business plans from incubator staff.
Project backers, including Supervisor Gloria Molina, hope the incubator will help transform the gritty corridor between Cal State Los Angeles and the County-USC complex into the region's premier biomedical center.
Molina, who represents the area, has hired downtown L.A. consulting firm Estolano LeSar Perez Advisors to market properties in the corridor to developers with the hope of bringing in biomedical firms. One of the largest biomedical firms already on the corridor, blood plasma products maker Grifols, has already been active in the marketing effort.
"The area may look tired and worn now," Molina told the Business Journal last week, "but with state-of-the art lab space and opportunities for researchers, we hope this will get us a hook into this industry that is growing so fast. In the process, we hope to create good-paying and stable jobs."
Failed efforts
The quest for an Eastside bioscience incubator and corridor started in 2000, when the county and the USC Keck School of Medicine announced plans for a 100-acre biotech park near County-USC. But the proposal ran into several obstacles, including the county's unwillingness to relocate a juvenile justice facility and squabbling between city and county redevelopment agencies, which would have put in much of the money for infrastructure improvements. After numerous reboots, the plan collapsed for good in 2012 when Gov. Jerry Brown pulled the plug on redevelopment agencies.
Another plan, one that called for Culver City business advisory group Momentum Biosciences to create an incubator in the historic – and vacant – County-USC medical center building, also fell through. Organizers said it would have cost too much to renovate the building, which opened in 1933.
"The space that was allocated for us turned out to be a nightmare," said Momentum Biosciences President Philipp Czernin. "There were so many construction and improvement-related problems: plumbing, asbestos, a historic landmark designation, you name it. We just weren't able to get it done."
Enter Cal State Los Angeles. In 2012, the university opened a $100 million science complex to replace a 40-year-old sciences building. That building, which includes lab space, is now mostly vacant.
In May, the consultants Molina hired approached the university about promoting the bioscience corridor.
"That's when they offered their building for the incubator and we jumped at the opportunity," said Cecilia Estolano, a founding partner of Estolano LeSar Perez. "You just can't find that kind of space with labs already built in anywhere else."
Estolano said the county and university are expected to sign an agreement to formally launch the incubator within the next few weeks. The incubator could open for business six months later, after relatively minor renovations. To start, the incubator will take up about 5,000 square feet of the science building's 20,000-square-foot second floor.
"The beauty of this is that there's plenty of room to grow as more companies come in," Estolano said.
New Cal State L.A. President William Covino said having a bioscience incubator on campus will benefit students and faculty as well as fit in with the university's efforts to create an "innovation alley."
Unlike some other university-based incubators, Covino said there are no immediate plans for Cal State Los Angeles to take equity stakes in companies in the incubator.
"That could change down the road, but for now, we'll just be offering the space, access to the labs and any assistance the companies need with research and business plans," he said.
Expansions afoot
While not known for being a major bioscience school, Cal State Los Angeles does house the county's main forensics lab. And it's just three miles from the massive County-USC Medical Center and USC Health Sciences campus, which is in the midst of a major expansion.
Development manager Melissa Schild said that under a master plan approved by the USC Board of Trustees in 2011, the university plans over the next 20 years to develop 2.5 million square feet of academic, clinical and research space. Immediate plans include building a 110,000-square foot medical office building, a student housing project and a hotel. 
Cal State L.A.'s campus also sits just south of Grifols, one of the largest private-sector employers on the proposed bioscience corridor. The U.S. headquarters of the Barcelona, Spain, plasma products giant Grifols S.A. employs 850 on a 25-acre campus off East Valley Boulevard. The site has been a plasma products factory since World War II, undergoing several ownership changes before Grifols took over in 2003. Since then, the company has poured more than $300 million into the site and is presently building a manufacturing facility.
In 2005, Grifols started meeting with county officials about creating a bioscience corridor. And earlier this month, it hosted a developer tour of properties within the proposed corridor.
One reason for Grifols' interest: a corridor would boost the region's talent pool.
"We look at the Eastside of Los Angeles as an untapped gem for talent," said Karen Glenn, the company's government affairs manager. "With a bioscience corridor, the more talented people come into the area, the greater the talent pool is for all the employers."
Gaps in middle
While major developments are under way on both ends end of the corridor, the three miles in between are mostly filled with decades-old buildings that lack the amenities new bioscience firms would need. And the often narrow streets need repairs and beautification.
Despite these obstacles, Estolano said more than 40 developers this month toured five properties along the corridor that are for sale or lease.
Still, the path to a bustling bioscience corridor could prove difficult to navigate. In nearby Pasadena, civic, business and medical leaders had plans nearly 20 years ago for a biotech corridor along Raymond Avenue, led by an expansion of Huntington Memorial Hospital.
But the plan fizzled a few years later, said Eric Duyshart, Pasadena's economic development manager, as city officials decided it was too risky to pick winning industry sectors.
Now, a small biomedical cluster has developed at the north end of Raymond, with a handful of new medical office and research buildings. The southern part developed as a center for design and other creative firms.
Molina, who is now running for the Los Angeles City Council, said she remains hopeful the bioscience corridor will take off.
"With the incubator at Cal State L.A., all the expansion at the USC health campus, our partnership with Grifols and the infrastructure improvements we have planned, we hope that will be enough to make it a successful corridor," she said.
For reprint and licensing requests for this article, CLICK HERE.