Manufacturer of Hydrogen Trucks Fails to Deliver
Trucking: Vision rolls into bankruptcy after burning through millions in grants.
Monday, October 20, 2014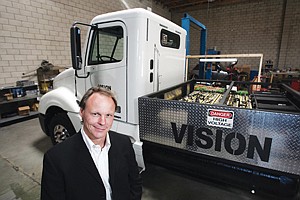 Vision Industries Corp., a Long Beach company developing hydrogen-powered big rigs for the local ports, has filed for bankruptcy despite receiving millions in grant money from local, state and federal agencies.
Officials at the ports of Los Angeles and Long Beach had for years looked to Vision's zero-emission trucks as a potential solution to dirty air around the harbor. The company even got to show off its truck at a Sacramento event with then-Gov. Arnold Schwarzenegger in 2009.
But Vision has not been able to sell its trucks to commercial users. With a price tag approaching $300,000, each of the company's zero-emission trucks can be about twice as expensive as their diesel counterparts. And it turns out hydrogen fuel isn't easy to come by.
The company, which also did business as Vision Motor Corp., filed for Chapter 11 bankruptcy protection late last month. It reported $1.3 million in assets and nearly $3.2 million in debt.
The company had recently tried to get shareholders to approve billions – yes, billions – of new shares to help raise new capital, but that plan failed when there wasn't a quorum at a shareholder meeting in late August, according to a statement from Martin Schuermann, the company's chief executive.
"We are disappointed by the lack of participation by our shareholders," he said. "This more than limited our options to raise capital; it effectively made it impossible."
Vision said it would continue government-supported projects and other work during the bankruptcy process.
Schuermann did not return phone calls.
Public benefit
Vision's financial problems came despite support from local and federal officials. The ports of Los Angeles and Long Beach in 2010 supported a demonstration project that would test one of Vision's Tyrano hydrogen trucks at the ports.
The ports combined to give the company at least $1.7 million in grants, according to Vision's filings with the Securities and Exchange Commission.
Vision also reported having won a total of $4.4 million in Energy Department grants to test hydrogen-powered trucks at the ports of Los Angeles and Houston.
But Vision hasn't always been able to deliver for the agencies that have supported it.
The Port of Los Angeles asked Vision in 2011 to retrofit another company's electric trucks by adding hydrogen fuel cells, but Vision could not make its power system work with the other rigs in time to meet a funding deadline.
Also, the South Coast Air Quality Management District awarded a $958,000 contract to Vision for a quartet of Tyrano trucks that would go to work around the harbor.
Prev Next
For reprint and licensing requests for this article, CLICK HERE.