Fast-Food Site to Serve Up Hotel?
REAL ESTATE: Marriotts maker pays $13.8 million for burger lot.
Monday, October 20, 2014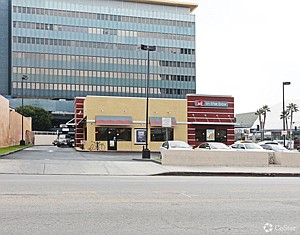 In Hollywood, where developers are pouring billions into sky-high projects, what few plots of developable land remain have become a smoking-hot commodity.
Case in point: A small property on Sunset Boulevard, currently home to a Jack-in-the-Box restaurant, is under contract for a super-sized price.
R.D. Olson Development has agreed to pay nearly $13.8 million, more than $581 a square foot, for the half-acre property at the northeast corner of Sunset and Cahuenga boulevards, according to real estate sources with knowledge of the deal. The buyer has paid a nonrefundable deposit for the site and is working through the due-diligence process. The sale is expected to close early next month.
Only one land deal in Hollywood has exceeded that per-foot price. New York's KLM Construction last year paid about $714 a square foot for a long-term ground lease under the TCL Chinese Theatre. But the two land sales are not exactly comparable: One deal was for land beneath a thriving 35,000-square-foot movie theater considered an American icon, the other to a 3,900-square-foot run-of-the-mill fast-food joint.
John Tronson, a principal at Avison Young, represented the sellers of the Jack-in-the-Box property, Baird-Hogan Family Trust. He said he was taken aback when the property attracted six aggressive bidders and was under contract in three weeks.
"It was surprising not only that the value got as high as it did, but how many people were willing to pay it," he said. "It was a lightning-fast process."
Susan Baird, a representative of the family trust that sold the property, did not return requests for comment on the sale, but a recording for her voicemail suggests she had experienced a barrage of interest in the property.
"Please leave me a message and I'll get back to you as soon as possible," the message said, "unless you are a Los Angeles real estate agent, in which case I would like you to stop calling this number."
Officials of R.D. Olson declined to comment on the pending transaction.
Prominent location
The small Sunset development site had been in the Baird-Hogan family for more than four decades. Before Jack-in-the-Box built a restaurant there in 1987, it had been a Chevron gas station.
The property, at 6407 W. Sunset, sits less than three blocks from the Hollywood-Vine Metro station, well within a district designated by the city for high-density development. Furthermore, it is across the street from record store Amoeba Music and Arclight Cinema's Cinerama Dome, popular destinations for local residents and tourists alike.
For reprint and licensing requests for this article, CLICK HERE.
Prev Next