With Twist
Matchmaker uses DNA tests to pair up daters
Monday, October 13, 2014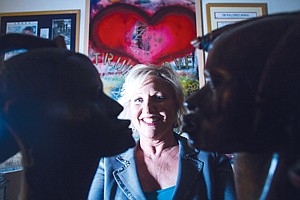 Starting a relationship takes effort – from setting up the first date to learning about your potential mate's life goals to discovering their quirky interests.
But now you can do more, much more, to find the ultimate mate. You can factor in their serotonin levels and the strength of their immune system, among other biological aspects.
And high-end matchmaker Julie Ferman of Westlake Village will help you find your genetically compatible partner.
She's one of three U.S. matchmakers – and the only one in Los Angeles – to link up with Canadian biotech startup Instant Chemistry for an exclusive partnership to offer her VIP clients the chance to find a date with the help of DNA testing.
Ferman has been in the business for more than 20 years and said her matches have led to more than 1,000 marriages, but she's hoping the DNA tests will lead to more – and perhaps more credibility with clients, most of whom are educated professionals who pay upwards of $5,000 for her services.
"I think I've done matchmaking every way there is to do matchmaking and this is a brand new twist," she said. "I see the resistance people have to me, the matchmaker, making a suggestion, but I'm just another flawed human. If it's God or nature, maybe they'll pay more attention."
The new offering could give Ferman more leverage in the increasingly competitive matchmaking market, which has been saturated in recent years by data-driven online dating services such as Santa Monica's eHarmony and mobile dating apps such as West L.A.'s BeLinked and Culver City's Whim.
Patti Stanger, star of Bravo reality TV series "The Millionaire Matchmaker" and owner of the Marina del Rey-based Millionaire's Club matchmaking service, said adding science into the world of matchmaking is always a plus. For instance, Stanger herself recently created a course that uses music infused with subliminal messages to help clients be more positive and open to romance.
But in the case of DNA testing, she said she's skeptical about its usefulness.
"Chemistry, as much as it's 60 percent of the deal, is not everything," Stanger said. "You have to find out, Do people have morals and values? Finances are the No. 1 reason why people get divorced. So, you can have chemistry with a bartender, but what's that going to do for you?"
Gene of love
Ferman has been a matchmaker since 1990 and met her husband, Gil, through a matchmaking service. Before signing a client, she meets with them for a coaching session and asks what kind of relationship they're looking for and the top qualities they want in a partner.
For reprint and licensing requests for this article, CLICK HERE.
Prev Next