Marketer Hopes to Make Points With E-Sports Fans
Video Games: Demand for live events directs new business to NCompass.
Monday, October 13, 2014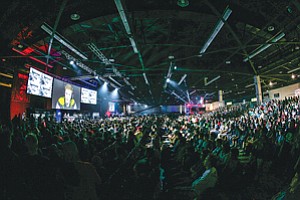 With about two minutes left to go in the June championship game, a crowd of thousands in Anaheim broke into chants of "Let's go, Optic!" as their team rallied from a huge halftime deficit to defeat its bitter rival.
The action took place not at a professional baseball or hockey game, but during "Call of Duty" Championships, in which teams played Activision Blizzard Inc.'s first-person shooter game for tens thousands of dollars in cash prizes.
The exploding popularity of live video-game contests, such as the one held at the Anaheim Convention Center, has led the producer of the event, New York's Major League Gaming, to partner with NCompass International of West Hollywood to create more such live extravaganzas.
In the hope of reeling in more viewers – and more ad dollars – NCompass, an experiential marketing firm specializing in events, and Major League Gaming plan to bring corporate sponsorships and high-end production values to the world of online video-game competitions. To do that, they are taking cues from business and broadcast models employed by traditional sports such as football, basketball and baseball.
"There's a great opportunity to bring these brands in and let them see the power of the e-sports world and get their message out," said Ryan Fitzpatrick, vice president of lifestyle marketing and branded entertainment at NCompass. "We have the opportunity to excel with Major League Gaming as we start to really drive and craft these events to be more broadcast friendly and bring in more of a mainstream viewership."
The mainstream might already be heading their way.
Online viewers watched 2.4 billion hours of video-game competitions, also known as e-sports, last year, according to a report from Englewood, Colo., analytics firm IHS Inc. That's nearly twice as much viewing as in the year before. In four years, IHS projects that will reach 6.6 billion hours, boosting the e-sports video market to $300 million.
"E-sports videos have rapidly transformed from a niche activity into a widely watched, global, cross-platform entertainment category," Dan Cryan, IHS senior director of digital media research, said in a note accompanying the report.
"E-sports is probably going to be more culturally relevant to the next generation of kids than any other sport," said Jason Xu, founder and chief executive of Vancouver's Battlefy, which provides a competition management platform used by e-sports leagues around the world. "I definitely don't see the numbers going down."
Level up
Prev Next
For reprint and licensing requests for this article, CLICK HERE.