Feds Take Malibu Mansion, Michael Jackson Memorabilia From African Kleptocrat
Friday, October 10, 2014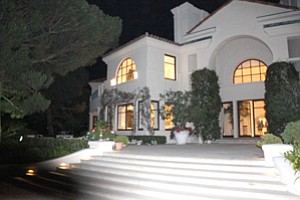 The Second Vice President of the Republic of Equatorial Guinea, Teodoro Nguema Obiang Mangue, has agreed to forfeit his Malibu Mansion and other assets purchased with corruption proceeds as part of a settlement with the Department of Justice. The settlement forces him to relinquish assets worth an estimated $30 million and prevents him from hiding other stolen money in the United States.
Obiang "looted" his government and "shook down businesses" in his home country, raking in bribes and kickbacks to support a lavish lifestyle complete with a "corruption-fueled spending spree" in the United States, according to Assistant Attorney General Leslie R. Caldwell of the Justice Department's Criminal Division.
Under the terms of the settlement, Obiang must sell a $30 million mansion located in Malibu, a Ferrari and various items of Michael Jackson memorabilia purchased with the proceeds of corruption. Of that bounty, $20 million will be given to a charitable organization to be used for the benefit of the people of Equatorial Guinea. Another $10.3 million will be forfeited to the United States, according to a statement from the Justice Department.
Obiang must also pay the United States $1 million for Michael Jackson memorabilia he already removed from the country.
According to court documents, Obiang, the son of Equatorial Guinea's President Teodoro Obiang Nguema Mbasogo, received an official government salary of less than $100,000 but used his position as a government minister to amass more than $300 million through corruption and money laundering.
His case was brought under the DOJ's Kleptocracy Asset Recovery Initiative, which is focused on denying safe haven to corruption proceeds and recovering them for the people harmed by the abuse of office.
(Photo courtesy of U.S. Immigration and Customs Enforcement.)
For reprint and licensing requests for this article, CLICK HERE.