Chinese Investors Pay Premium for Pasadena Office
Wednesday, October 8, 2014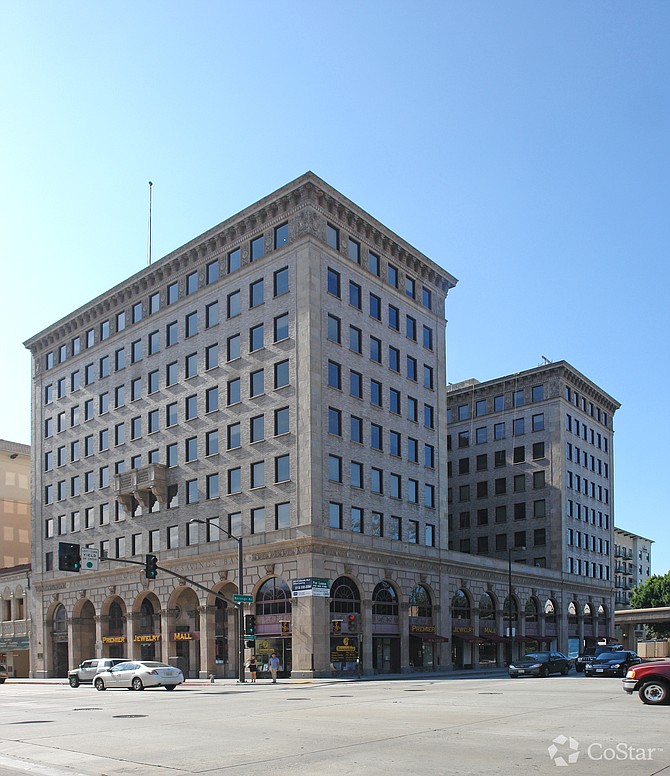 A private investor group from China last week paid a premium to buy a 90-year-old Pasadena office property in the city's historic Old Pasadena district.
The buyer, a limited liability company called 21st Century Tech Banq Pasadena, purchased the nine-story beaux-arts office building at 234 E. Colorado Blvd. for $36.4 million, or about $295 a square foot. That's a 37 percent increase over the $26.5 million seller Embarcadero Capital Partners paid for the property in 2006.
The approximately 123,000-square-foot building, built in 1924 as a bank headquarters, sits adjacent to the well-trafficked Paseo Colorado shopping center. It was about 96 percent leased at the time of sale, primarily to small professional services firms, but also to headquarters for steakhouse company Lawry's Restaurants Inc. About 13,000 square feet of ground-floor retail space was leased to BJ's Restaurants Inc.
Suzanne Lee, a managing director in Cassidy Turley's downtown L.A. office, represented the buyer in the deal. She said the buyer looked at buildings in Santa Monica, Beverly Hills and other West L.A. submarkets but were ultimately attracted to the strength of the Pasadena market.
"They liked the stability and health of Pasadena, specifically Old Town," she said. "(The sale) is a continued vote of confidence in Pasadena as one of the shining stars in the Southern California commercial real estate market. Along with the Westside, it's one of the more robust submarkets in the region."
Tenny Tsai, Danny Yu and Jake Dederer of Cassidy Turley also represented the buyer in the deal. Bob Safai and Matt Case of Madison Partners represented the seller.
For reprint and licensing requests for this article, CLICK HERE.