Korean Booze Maker Bottled Up
Alcohol: Hite Jinro says ex-exec swiped rights to U.S. distribution.
Monday, October 6, 2014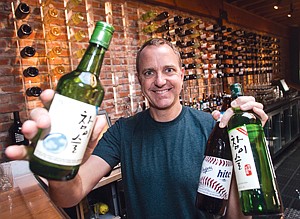 The alcohol content of soju varies, from less than 19 percent to as much as 45 percent, but it is the lower count that has helped the drink gain what traction it has in the United States.
Greg Seares, co-owner of Bodega Wine Bar in Santa Monica, is one of a handful of non-Koreatown vendors to carry soju. The soju he sells, because it is less than 20 percent alcohol, allows him to carry only a state beer and wine permit rather than a more costly distilled spirits license. Yet soju is suitable for mixing as a cocktail.
Seares said Bodega offers soju because it allows bartenders to mix up any cocktail that would typically be made with vodka without the need for a full liquor license.
"I wouldn't say our customers are asking for Jinro by name; people aren't really familiar with it," he said. "I think people would rather have vodka if they had a choice."
That lackluster interest, however, hasn't been due to lack of effort by Jinro America. In recent years, the company has sponsored a number of Korean festivals in Los Angeles and New York. Also, the company teamed up with the Los Angeles Dodgers to sell Hite beer and Jinro soju cocktails at Dodger Stadium.
Still, Jinro's sales in the United States hovered around $2 million last year, according to Danny Brager, senior vice president of beverage alcohol practice in research firm Nielsen's Mission Viejo office. That figure, however, tracks sales through liquor stores and does not include sales to restaurants and bars.
Sales year over year were relatively flat, Brager said, likely because of fierce competition in the broader liquor industry.
"In that very competitive marketplace, with a lot of very big companies competing for both shelf space and consumer attention, educating the American consumer about something relatively new like soju will likely take time and patience," he said.
Locked in
Deuk Lee joined Hite Brewery Co. in Seoul in 1988 and was sent to Los Angeles to open its local outpost nine years later. Hite Brewery acquired soju maker Jinro Co. in 2005, and Lee was made president of the joined U.S. operation, Jinro America, the following year.
Two years prior to the merger, as Hite Brewery's exclusive license with its local beer distribution vendor was about to come up for renewal, Jinro America claims Lee began laying the groundwork for the alleged scheme by forming his company, Hite USA.
For reprint and licensing requests for this article, CLICK HERE.