Korean Booze Maker Bottled Up
Alcohol: Hite Jinro says ex-exec swiped rights to U.S. distribution.
Monday, October 6, 2014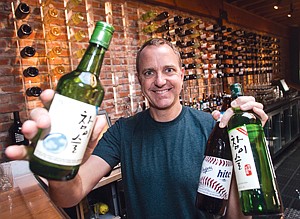 Soju goes down smooth. So smooth that the clear alcoholic beverage distilled from rice and other starches has transcended its 700-year-old Korean roots to become the best-selling spirit in the world.
But you wouldn't know that in the United States, where the light, slightly sweet drink remains a novelty. In fact, the world's leading producer, Hite Jinro Co. of Seoul, sold only 5 percent of its soju in America last year.
There might be a reason for those sobering sales numbers: The company says its U.S. distributor has exclusive rights but isn't doing much. What's more, Hite Jinro claims, that distributorship is headed by one of its former executives who got the deal through self-dealing, bribery and fraud. Ousting him could be prohibitively expensive.
Hite USA Inc., a South L.A. beverage distribution business that is separate from Hite Jinro, has held the exclusive right to distribute Hite Jinro products in the United States since 2007. It is headed by Deuk Lee, who worked for a predecessor company in Seoul in 1988 and was sent here in the late 1990s to open its local beachhead. He was later named president of the brewery's North American operation, Jinro America Inc., in the Koreatown area of Los Angeles.
State records show that Lee formed Hite USA in February 2003. That meant Lee was president of both the parent company's North American operations and of his own beverage business. Far from home and in charge of a foreign market, the company alleges in court filings, Lee moved distribution rights of his employer's products to his own businesses. The company claims he later arranged to get regular payments from the brewing company and worked it out so that it would be difficult to oust him as exclusive distributor.
Lee, who has not yet responded to the allegations, did not respond to calls to his home and office seeking comment.
Kevin Kang, general manager and director at Jinro America, referred calls to the company's attorney at downtown L.A.'s Quinn Emanuel Urquhart & Sullivan. The lawyer declined to comment.
Mass appeal
Soju dates to the 1300s, when the Mongols invaded the Korean Peninsula and brought with them Central Asian distilling techniques. It was for hundreds of years fermented from rice, until shortages in the middle of the 20th century forced manufacturers to switch to sweet potatoes and tapioca. Though restrictions on rice fermentation were later lifted as the shortages abated, soju continued to be made from sweet potatoes and other sources as well as rice. In the end, soju is somewhat like sake or even vodka.
For reprint and licensing requests for this article, CLICK HERE.
Prev Next