Departure of Rival Pays Off for Fund Managers
Banking & Finance: DoubleLine, TWC see gains in wake of exit by Pimco's Bill Gross.
Monday, October 6, 2014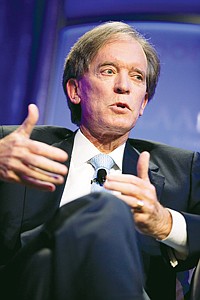 Pacific Investment Management Co.'s Bill Gross, the Bond King of Newport Beach, has been dethroned – and Jeffrey Gundlach of downtown L.A.'s DoubleLine Capital is one of the biggest beneficiaries.
DoubleLine reported that September was its best month of the year, as its main Total Return Bond Fund pulled in $1.3 billion of net inflows. Last month's influx made up 35 percent of all the money the fund took in so far this year and was more than twice the firm's inflows in August, the previous high month.
Another local firm, downtown asset manager TCW Co. Inc., also likely benefitted from Gross' departure. The firm's flagship fund, the Metropolitan West Total Return Bond Fund, had about $1 billion in inflows from Sept. 26, the day Gross left Pimco, to Sept. 30, according to Morningstar.
At the same time, Pimco's flagship Total Return Fund, which had been managed by Gross, last month hemorrhaged $23.5 billion – 10 percent of its assets. That put an exclamation point on 17 straight months of outflows for the fund.
Pimco's flagship fund remains much larger than DoubleLine's – $200 billion compared with $36 billion – but the gap has been closing.
Gross, 70, resigned from Pimco, the firm he co-founded, to join Denver's Janus Capital. According to CNBC and Wall Street Journal reports, Pimco would have fired Gross had he not quit.
Gross had a rough last couple of years, blowing a big call on interest rates, getting into a screaming match with the firm's chief investment officer and comparing himself to the racehorse Secretariat in an interview.
One Beverly Hills wealth manager, who spoke on condition of anonymity to not reveal the investments of his celebrity clientele, said that while the flight from Pimco was certainly dramatic, his clients hadn't invested in Gross' fund for years. His clients do keep money with Gundlach.
Fueled Up
Two out-of-town venture capital firms that are establishing a bigger presence in Los Angeles just doubled down on their investment in a local company.
Boston's Romulus Capital led a $1.5 million Series A round in Estify, which New York firm FF Venture Capital also participated in.
Estify is a Web-based tool that helps auto-body shops work with insurance companies to get repairs paid for in a timely manner. It aims to reconcile insurance company estimates with those provided by repair shops and reduce the time-consuming negotiation process. The company released its services to the public at the start of the year, and now has more than 30 employees. It began life in Venice as part of the Amplify.la incubator and is currently occupying temporary space in Agoura Hills.
For reprint and licensing requests for this article, CLICK HERE.
Prev Next