StyleHaul's Stephanie Horbaczewski Talks Acquisition, E-Commerce and Garcetti
Tuesday, November 25, 2014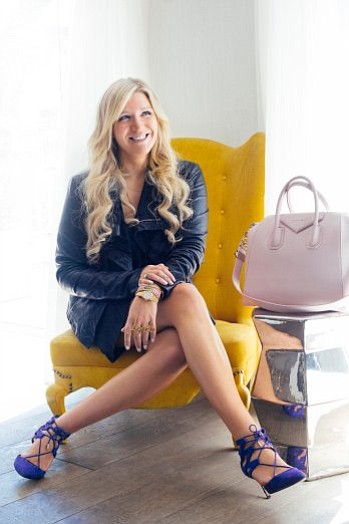 Stephanie Horbaczewski has a lot to celebrate.
Her fashion and beauty multichannel network StyleHaul was recently acquired by investor RTL Group in a deal worth up to $200 million. The buy has prompted mass hiring at the Hollywood company as it looks to expand its retail partnerships and further its reach overseas. The MCN currently has 4,600 content creators whose videos bring in 900 million views a month.
The belle of Techweek L.A., Horbaczewski dished about the acquisition last Friday during a half-hour fireside chat, the penultimate talk of the two-day tech conference at Santa Monica Pier.
A small contingent of entrepreneurs – mostly young women – swarms Horbaczewski as she steps offstage. She instructs an associate to pass out her business cards before posing for a photo. Horbaczewski and her cheery "I mean business" attitude have a commanding presence, one that relishes and thrives under the Silicon Beach spotlight that has crowned her the newest darling of L.A. tech.
So it was on that windy pier that StyleHaul's fast-talking chief executive – donning a long-sleeved black cardigan, navy mini-dress and black fur scarf with white tinged tips – chatted with the Business Journal about her investor-turned-buyer, whether a StyleHaul lipstick might be in store and a special phone call she received from Los Angeles Mayor Eric Garcetti.
Congratulations on the acquisition.
Nice to finally be able to talk about it.
RTL Group was a longtime investor before it acquired you. Tell me why RTL was such a good fit. What do they bring?
It's been two years of a really great supportive relationship. They've supported the two female CEOs in the space. (Fremantle Media's Cecile Frot-Coutaz and I) are a minority, and they've invested in both of us. They're incredibly decentralized, and I get to keep running my business because what I'm doing is evolving every single day. The attitude of wanting to bring in entrepreneurs and letting them grow within their organization, I think, is probably the main reason. And Guillaume de Posch (RTL's co-chief executive), he's really a visionary. He's driving forward change. I have a very special relationship with him and Giles Drew (RTL's vice president of strategy). There was no better place for me to go.
StyleHaul is an intermediary between content creators and brands. Are there any plans to represent the StyleHaul brand through actual products?
We did hire an SVP of strategic partnerships whose primary focus is product development and e-commerce to get us into that space more aggressively. Maybelline, for example, is a drugstore brand. It's not something you traditionally buy in e-commerce. Through our partnership with Maybelline, our incredible influencers and how brilliant they were at creating looks, they sold out of that palette online in two weeks. I think that's just an example of how far all this is coming. A brand that you exclusively think of getting at a drugstore would be something that could sell out online.
But what about developing your own lines? StyleHaul lipsticks, StyleHaul brushes, StyleHaul nail polishes, etc.
I come from retail. It's a completely different business to keep inventory and make products. At this point, we are experts at what we do. I'd like my team to focus on continuing to expand and dominate at what we do. And I would like to explore partnerships with people whose core competency and expertise is making products. I would gravitate toward partnerships but we'll see.
You have someone in Singapore, and you're also setting up in Brazil. How aggressive is your international expansion right now?
Fifty percent of our audience is outside the U.S. So how aggressive is our international expansion? Very. I'm incredibly interested in the Asia-Pacific region. For brands, that's sort of their next area of concentration. International expansion has followed the brands' interest and their own investment so the UK, Canada, then down to South America and over to Asia. I expect Europe and continuing parts of South America to be our next areas. But it's happening very quickly. We're already adding a second person in Singapore, and the first has only been there since September.
Mayor Eric Garcetti gave you a call after StyleHaul was acquired. What did you guys talk about?
I am embarrassed to say this, but I did not know how much he was doing in terms of supporting entrepreneurs, tech and fashion. He called me to say he thinks StyleHaul is great for L.A. and that he had all of these resources that he was willing to share with us. That he would take the time to make a personal phone call I think needs to be noted because I don't think that's your everyday politician. I think it's just really amazing to have a mayor who's that engaged.
How would you judge Mayor Garcetti's style?
From an energy standpoint, we connected very well. He's a lot like me. He's very direct. He's really excited and engaged about what the opportunities are.

You do have a very vibrant energy.
When you're working with people who are changing the world at age 18, I can't help but be inspired and energized. You've got to keep up.
Staff reporter Melissah Yang can be reached at MYang@labusinessjournal.com. Follow her on Twitter @MelissahYang for the latest in L.A. tech news.
For reprint and licensing requests for this article, CLICK HERE.