Ex-FM Talk Show Host Dialed Into Fans Online
Radio: Tom Leykis finds success with subscriptions after switch to Internet.
Monday, November 24, 2014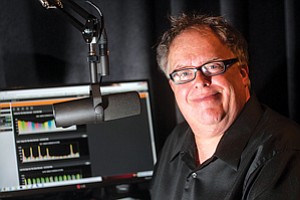 After Tom Leykis was booted from KLSX-FM (97.1) as part of a format change, the veteran talk-radio host went into business for himself, moving his entire operation online.
That was four years ago, when prospects for financial success in online radio were uncertain. Now, the medium is coming of age as more listeners are going online.
Leykis said the shift is evident at his Burbank company, New Normal, which will turn its first annual profit this year relying partly on a model that doesn't even exist in traditional commercial radio – selling subscriptions.
"I'm talking about a small profit," Leykis admitted. "But revenue is up dramatically."
Leykis' niche subscription model could be replicated by others, although he came into it with two distinct advantages: a dedicated fan base and a multimillion-dollar radio deal that didn't expire until 2012, which supported him financially.
New Normal produces and distributes Leykis' flagship program, "The Tom Leykis Show," which is known for dishing out dating advice to men. New Normal offers other programs, but the "Leykis" show is the biggest draw. The show is free to hear live but listeners can pay to access podcasts on demand.
The audience is less than tiny by traditional radio standards, where listeners of shows with national reach are counted in the millions. There are about 30,000 live listeners daily, and about 1,700 paying subscribers. Subscriptions are New Normal's largest revenue producer, followed by live events.
The show is streamed live through Leykis' website weekdays at 3 p.m. for about three hours. Premium access can be had for $11 a month for a service that offers recorded shows with ads and access to all of his archived shows. A $19 monthly subscription gives listeners ad-free shows, along with archive access.
He said about 15 percent of subscribers pay for the premium service. Annual subscribers receive a discount. Revenue from subscriptions will bring in between $200,000 and $250,000.
Digital switch
It's an unusual model for a radio host, even in the online world. Most podcasters offer their programs for free and sell advertising to make money.
New Normal does sell ads on its shows, but Leykis said advertising alone would not sustain the venture. Annual expenses for the four-employee company come out to about $500,000 a year.
It helps that Leykis' fans are known for showing their devotion. Listeners have at times paid thousands of dollars for perks such as the chance to host his broadcast at their home or to spend a day with him in Los Angeles.
Leykis said he even personally contacts people who have cancelled their subscriptions to get them to renew.
"People think this is some big company and I'm just the host," he said. "Imagine the surprise when I personally write to each person. It's pretty effective."
Judi Brown-Marmel, partner at L.A. comedy-focused talent management firm Levity Entertainment Group, said Leykis' approach makes sense since fans of online radio shows tend to be more loyal than fans in other media.
"What's nice is you can build your fan base in a really organic way," she said. "You're speaking directly to them."
The same event that kicked off Leykis' Internet career – CBS Radio's decision in 2009 to switch then-KLSX-FM from talk to Top 40 – also gave rise to Adam Carolla's podcasting career, as he was also out of a radio job after the switch.
Carolla started his podcast immediately afterward from his garage in Glendale, without any advertising. Unlike Leykis' program, "The Adam Carolla Show" can be downloaded for on-demand listening for free. It has by many accounts become the most popular podcast available.
The company behind the show, Carolla Digital, achieved profitability within two years of launching, and this year will generate about $5 million in revenue, up 25 percent from last year, said Chief Financial Officer Mike August.
He said the company's growth comes from getting traction with advertisers from producing multiple shows a day and reaching as wide an audience as possible. The "Carolla Show" gets about 1 million listeners a day.
"The secret to our success is reach and frequency," he said.
Of course, the chances for other radio hosts to achieve success online will depend on whether their listeners follow. It helps to have a distinctive shtick and a devoted following, like Leykis and Carolla.
August said he expects to see more radio personalities attempt to take their shows online as the medium grows and traditional radio faces financial pressure.
"We're a sign of where radio is going," he said. "All the personalities are going to have to migrate somewhere. They're going to go online and be ad supported or subscription supported."
Carolla's model also offers an opportunity to promote a variety of other businesses, such as his line of sangria, called Mangria, as well as his books and live shows.
He is starting to dip into the subscription world, too, with the recent introduction of "Take a Knee," a weekly motivational show that will be made available for $3.99 a month.
Another way to shore up revenue is using Amazon.com Inc.'s affiliate program. Both Leykis' and Carolla's firms post links on their websites to Amazon. When visitors use the link to make a purchase, a cut of sales goes back to the firms. For example, New Normal has generated about $60,000 in revenue this year from about $900,000 of sales it has referred to Amazon.
It's just another part of the scrappy tactics used online but largely ignored by traditional radio, Leykis said.
"Radio could do all the things we do, they just don't," he said.
Now, Leykis is working on the next phase for his company, which will include the rollout of a mobile app.
He said he's planning on taking his first salary next year.
For reprint and licensing requests for this article, CLICK HERE.