Honk Takes New Turn at Roadside Assistance
Wednesday, November 19, 2014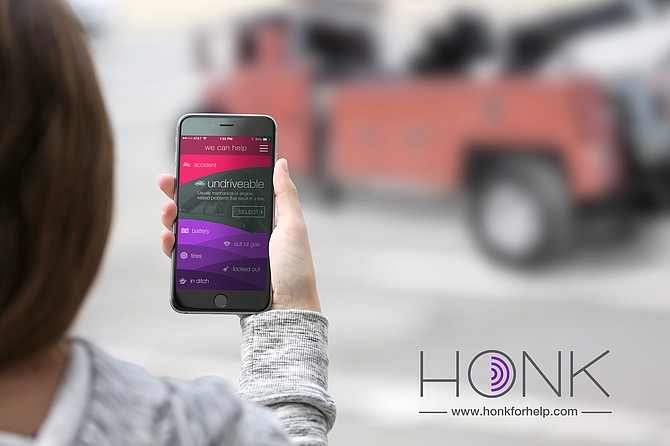 Triple AAA has long been the ubiquitous go-to call for stranded drivers. But the auto insurance company's customer is much older these days, and that's why Honk is squarely aimed at its business.
"They proudly boast that the average primary member of Triple AAA is 57 years old," said Honk founder and Chief Executive Corey Brundage.
Honk is hoping its on-demand app, which offers towing and roadside assistance services such as jump starts, lock outs, tire changes and fuel deliveries, will cruise control to the mobile millennial market.
The Santa Monica startup has more than 20,000 tow trucks from 3,600 partners in its nationwide network, which Brundage said represents roughly 10 percent to 15 percent of all U.S. truck companies. The average response time in urban areas is 15 minutes to 30 minutes.

Prices are as low as $49, but can vary depending on a driver's location, the type of vehicle and special circumstances. If a car is stuck in a ditch, it's not a simple tow. Still, Honk will give drivers a guaranteed maximum price that includes tax and tip.
Even with never-to-exceed prices, Honk has positioned itself to generate plenty of revenue. Honk has individually negotiated contracts with its partnered companies. Though the startup will make pricing recommendations, trucks have final say on what rate they want to offer through the iOS and Android app. Set a price too high though, and they'll most likely get less business.
Honk's dispatch technology looks for the best quality trucks with the highest reviews at the cheapest price. The startup pockets the difference between the fixed rate offered to customers and the tow truck's contracted rate. Brundage said this structure lets Honk take much higher gross margins than, for example, Uber, which takes 20 percent off each ride.
For Brundage, a high school "frenemy" of Napster co-founder Sean Parker, this is his fifth foray at starting a business. After rebranding Honk from an ill-named RoadsTruck – to which he laughed off as having often been misread as RoadStruck – this is the startup he's most excited about.
"If you look at Uber as the app you need when you don't have a car, Honk is the app you need when you do have a car," Brundage said.
Honk also announced it raised $1.8 million in seed funding. Investors include Double M Capital, Venture51, Expansion, Karlin Ventures, LivingSocial founder Aaron Batalion, Cheezburger Network Chief Executive Ben Huh, Jillian Manus and Mike Walsh of Structure Capital and angels Paige Craig and Naval Ravikant.
Staff reporter Melissah Yang can be reached at MYang@labusinessjournal.com. Follow her on Twitter @MelissahYang for the latest in L.A. tech news.
For reprint and licensing requests for this article, CLICK HERE.