Miracle Mile Property Faces Massive Departure
REAL ESTATE: Landlord in talks with big names to help replace media tenants.
Monday, November 17, 2014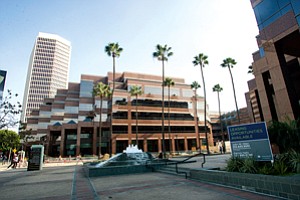 As three major media and entertainment tenants prepare to move out of Miracle Mile's prominent Wilshire Courtyard campus, New York landlord Tishman Speyer Properties is preparing to quickly backfill space.
Oprah Winfrey Network has already begun moving out of the 1 million-square-foot property at 5700 and 5750 Wilshire Blvd. Anschutz Entertainment Group and E! Entertainment Television Inc., a unit of NBCUniversal, will move out by the end of next year and 2016, respectively. Together, the three will vacate nearly 430,000 square feet.
To begin to make up for some of the loss, Tishman is in talks with at least two notable tenants – one of them an entertainment company – to take about 78,000 square feet, according to real estate sources.
The lease closest to completion is a deal with International Coffee & Tea, parent of the Coffee Bean & Tea Leaf chain, to move its headquarters from La Cienega Boulevard into about 39,000 square feet on the ground floor of the eastern Wilshire Courtyard building. The anticipated eight-year deal would likely include a flagship shop in about 3,000 square feet fronting Wilshire, where OWN previously had its cafeteria.
Also negotiating for about 39,000 square feet is Paramount Pictures Corp. Sources said the studio has run low on space on its Melrose Avenue lot in Hollywood and is looking for off-site offices for support services.
Both pending deals come after a lease signed earlier this year by South Korean media and entertainment company CJ E&M, which began moving its film division into about 14,250 square feet at Wilshire Courtyard last week.
Still, with E! Entertainment alone vacating up to 343,000 square feet – more than one-third of the property's total capacity – Tishman will have to hustle to keep occupancy and rental rates up. The East Coast real estate firm bought the two-building property about two years ago for $423 million, at the time the highest price paid for a Los Angeles County office property in eight years.
To justify the price, Tishman has been incrementally raising rents from about $3.25 a square foot a month to as much as $3.70. Such rates put the building firmly at the top of the Miracle Mile market, where average Class A asking rents in the third quarter were $3.15 a square foot a month, according to data provided by Jones Lang LaSalle Inc.
Tishman did not respond to requests for comment.
Manageable
But however ominous the looming vacancy might seem, it's neither unexpected nor unmanageable. The vacancies at Wilshire Courtyard won't happen all at once and many believe the market is strong enough to absorb such a hit.
Mark Robinson, executive director in the Century City office of Cushman & Wakefield Inc., said he thinks Tishman will have plenty of time and interest in the property to fill the gaps, though the company could need to soften rent requirements.
"When they bought the building, they clearly knew they had the potential to lose NBC; Tishman's no amateur," he said. "I think you're going to have a lot of people who maybe felt they were priced out of the project in the past say, 'Here's a great opportunity to get into a premier property,' because clearly Tishman will have to adjust their economics to backfill space."
Joel Frank, a senior vice president for CBRE Group Inc. who does leasing for several Miracle Mile office buildings, said landlords in the area are already trying to work out what such vacancy could mean for them.
"A lot of landlords are going to have to get a little more aggressive with (E! Entertainment's) departure," he said.
Miracle Mile, which goes head to head most closely with Hollywood for media and entertainment tenants, remains a competitive market. Despite rents that have been on the rise, the Miracle Mile market remains a discount to Hollywood, where average Class A asking rents were $3.73 a square foot a month in the third quarter. And while vacancy rates before any big moves in Miracle Mile were a healthy 13.7 percent, they were even tighter in the five core buildings that make up the bulk of office product between Fairfax and La Brea avenues.
Clare De Briere, chief operating officer at Ratkovich Co., which owns the 32-story former home to Variety at 5900 Wilshire, said the threat of higher vacancy in the area doesn't worry her. In the last year, Ratkovich has signed seven leases to re-tenant the building, including a five-year lease with hospitality development company SBE for 30,200 square feet and naming rights.
Likewise, Michael Geller at First Property Realty Corp., which handles leasing for J.H. Snyder Co.'s Museum Square building at 5757 Wilshire, isn't concerned. The 11-story building has vacancy rates in the single digits, and in the spring labor union Screen Actors Guild- American Federation of Television and Radio Artists renewed its lease for about 140,000 square feet through 2026. He said he's bullish on Wilshire Courtyard's ability to maintain high occupancy, too.
"I think there's a very good demand component for space in that area and they'll be well positioned to capture it," he said.
For reprint and licensing requests for this article, CLICK HERE.