Miracle Mile Property Faces Massive Departure
REAL ESTATE: Landlord in talks with big names to help replace media tenants.
Monday, November 17, 2014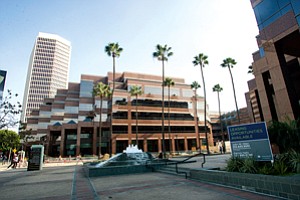 As three major media and entertainment tenants prepare to move out of Miracle Mile's prominent Wilshire Courtyard campus, New York landlord Tishman Speyer Properties is preparing to quickly backfill space.
Oprah Winfrey Network has already begun moving out of the 1 million-square-foot property at 5700 and 5750 Wilshire Blvd. Anschutz Entertainment Group and E! Entertainment Television Inc., a unit of NBCUniversal, will move out by the end of next year and 2016, respectively. Together, the three will vacate nearly 430,000 square feet.
To begin to make up for some of the loss, Tishman is in talks with at least two notable tenants – one of them an entertainment company – to take about 78,000 square feet, according to real estate sources.
The lease closest to completion is a deal with International Coffee & Tea, parent of the Coffee Bean & Tea Leaf chain, to move its headquarters from La Cienega Boulevard into about 39,000 square feet on the ground floor of the eastern Wilshire Courtyard building. The anticipated eight-year deal would likely include a flagship shop in about 3,000 square feet fronting Wilshire, where OWN previously had its cafeteria.
Also negotiating for about 39,000 square feet is Paramount Pictures Corp. Sources said the studio has run low on space on its Melrose Avenue lot in Hollywood and is looking for off-site offices for support services.
Both pending deals come after a lease signed earlier this year by South Korean media and entertainment company CJ E&M, which began moving its film division into about 14,250 square feet at Wilshire Courtyard last week.
Still, with E! Entertainment alone vacating up to 343,000 square feet – more than one-third of the property's total capacity – Tishman will have to hustle to keep occupancy and rental rates up. The East Coast real estate firm bought the two-building property about two years ago for $423 million, at the time the highest price paid for a Los Angeles County office property in eight years.
To justify the price, Tishman has been incrementally raising rents from about $3.25 a square foot a month to as much as $3.70. Such rates put the building firmly at the top of the Miracle Mile market, where average Class A asking rents in the third quarter were $3.15 a square foot a month, according to data provided by Jones Lang LaSalle Inc.
Tishman did not respond to requests for comment.
Manageable
For reprint and licensing requests for this article, CLICK HERE.
Prev Next