Mayor to Put Up For-Sale Sign During Asia Trip
DEVELOPMENT: City's brochure features properties of Ernst & Young clients.
Monday, November 10, 2014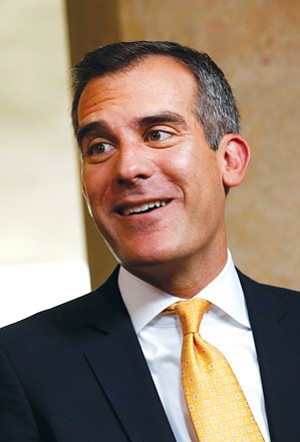 When Los Angeles Mayor Eric Garcetti travels to Asia later this month, he'll meet with government officials and business leaders to market the City of Angels, aiming to increase tourism and encourage companies to locate and invest here.
But rather than go with promises and platitudes, Garcetti will be armed with a brochure that includes a list of multimillion-dollar real estate investment opportunities being offered by clients of Ernst & Young.
That has raised questions both about the propriety of being seen as advancing the interests of a single firm as well as the signal it could send to potential investors.
"Why did he go to Ernst & Young and not everybody else?" said Bob Stern, former president of the now-defunct Center for Governmental Studies. "A lot of these trips are goodwill trips where nothing really happens, so obviously Garcetti wants something to happen. The issue is: Why these projects over others?"
Greg Karns, a partner at Century City law firm Cox Castle & Nicholson who manages the firm's Pacific Rim group, said concerns go deeper than just who was allowed to hand-pick specific real estate opportunities. In China, for example, where Garcetti will spend the bulk of his time, having the mayor tout specific opportunities could be perceived by investors as an endorsement or an assurance that the projects will go through the city's approval process unhindered.
"In a place where government involvement in development is much different than here, I think it may create a lot of interest that will be misguided once they realize that these aren't government-sanctioned projects," he said.
Not everyone thought bringing specific opportunities on the trip was a bad idea – if done right.
"It's probably a good idea to have tangible projects that investors and even government representatives can look at," said Larry Kosmont, chief executive of downtown L.A. economic development consultancy Kosmont Cos. "The issue is, you have to do it in a way so you don't cross the line between representing private projects at the expense of excluding other private projects."
C.Y. Wang, an L.A.-based partner and Americas area leader for EY's China Overseas Investment Network team said the firm had received no special benefits.
"We didn't get any preferential treatment," he said "The mayor's office did reach out to others but they didn't bring anything to the table. We responded to a call for help, and we were the only ones."
For reprint and licensing requests for this article, CLICK HERE.
Prev Next