Brentwood Apartment Complex Fetches Top Dollar
Tuesday, November 4, 2014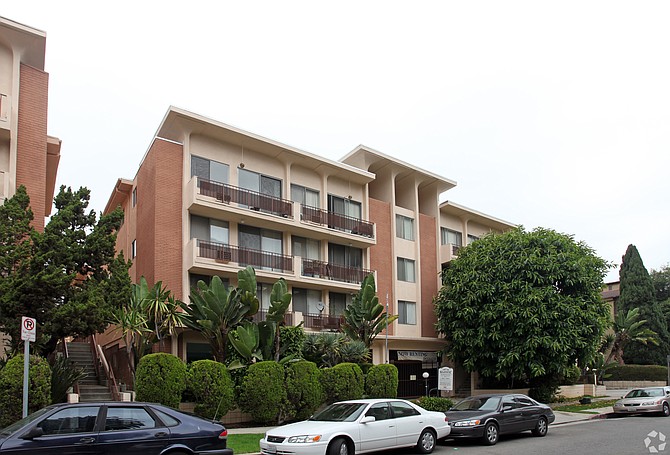 A 68-unit apartment complex in Brentwood has sold for $25.5 million, the highest price that Westside submarket has seen in 15 years.
Santa Monica multifamily investor Jeffrey Nemoy bought the Majestic East & West Apartments, a two-building property at 11677 and 11683 Goshen Ave., from Majestic Properties of Encino.
The Majestic is just the third apartment property in Brentwood to sell for more than $25 million. In 1998, the 712-unit Barrington Plaza property sold for $100 million and a 111-unit apartment complex at 555 S. Barrington Ave. sold in 1999 for $34.1 million, according to Costar.
The Majestic, built in 1971, consists of two red-brick buildings joined by a center walkway. The east building contains 39 one-bedroom units, and the west building contains 27 one-bedroom units and two with two bedrooms.
Stephen Saltzman, executive managing director for Keller Williams Commercial, represented the buyer in the deal. He said Nemoy was attracted to the property because of its location and potential for rental growth.
"Brentwood is undergoing some major retail development along San Vicente Boulevard and Barrington Avenue, and this property is walking distance to that," he said. "The buyer was also attracted by rents in the building, which are on average below market rates for today."
Saltzman said that though the buildings had been well-maintained, Nemoy plans to spend about $25,000 a unit to upgrade interiors with new kitchens, bathrooms and hardwood flooring.
Tony Azzi, a broker in the West L.A. office of Marcus & Millichap, represented the seller in the deal.
For reprint and licensing requests for this article, CLICK HERE.