Wall Street Glowing Over Deal on Nuclear Plant
ENERGY: Resolution on San Onofre may free Edison to focus on dividends.
Monday, November 3, 2014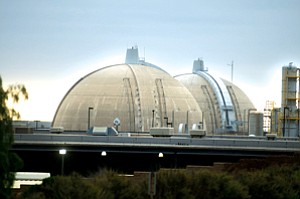 Some seemingly disappointing news for Edison International shareholders now has investors cheering.
Shareholders of the Rosemead utility giant found out last month that they'll likely have to bear a bit more of the multibillion-dollar cost of shutting down the San Onofre nuclear power plant than they initially expected – not what they were hoping for.
But analysts and investors nevertheless have a rosy outlook for the company. That's because, with a final San Onofre deal likely wrapping up this month, it looks like Edison management will be freed up to address a more fundamental concern for investors: the company's lagging dividend payout.
Edison's dividend payout ratio of 33 percent of earnings is low by industry standards – about half the average payout among utilities. Since utility companies traditionally have strong dividends, that's been a major sore point for investors.
But investors have been anticipating for some time that Edison would boost its dividend, helping driving the company's share price skyward. Throughout October, the stock repeatedly pushed 52-week highs, closing Oct. 30 at $62.56.
Edison's last quarterly cash dividend was 35.5 cents a share.
Edison Chief Executive Theodore Craver confirmed investors' expectations on a conference call last week after the company's latest earnings announcement.
"Boosting the dividend growth has been a very important factor behind the stock price run-up," said Ali Agha, managing director of equity research for SunTrust Robinson Humphrey of Atlanta. "The unresolved issue of paying for the San Onofre closure was a big reason why Edison has not been able to grow the dividend."
The holdup for a San Onofre settlement has been how the $4.7 billion cost of closing the plant would be split between Southern California Edison utility ratepayers and Edison shareholders. The nuclear plant was taken off line in January 2012 after a leak in a steam generator tube led to findings that thousands of generator tubes were wearing out faster than planned. The steam generators, manufactured by Mitsubishi Heavy Industries of Tokyo, had just recently been installed.
SCE had to spend millions of dollars to procure replacement power and make fixes to its transmission grid. Then it announced in June of last year that the nuclear power plant would be shut down permanently, at a cost of $4.7 billion over 10 years. The next month, SCE filed a lawsuit against Mitsubishi, claiming that the generators were defective.
The California Public Utilities Commission earlier this year proposed ratepayers be on the hook for $3.3 billion and shareholders $1.4 billion. But consumer groups complained, saying ratepayers should not be held responsible for flaws in the steam generators.
Edison, consumer groups and the commission reached a new deal last month. While the bills for ratepayers and shareholders remained the same, the new proposal gives ratepayers 95 percent of future insurance claim payouts for San Onofre. Those payouts could mean substantially lower bills for ratepayers.
The revised decision is scheduled for a PUC vote Nov. 20.
In Edison's earnings teleconference call with analysts last week, Craver said that the movement on this issue would resolve one of the "key uncertainties that have detracted from our longer-term potential."
As a result of this and other issues Edison has had to deal with in recent years – including the 2012 bankruptcy of its power-generating subsidiary Edison Mission Energy and steadily rising capital expenditures – dividend growth in recent years has been minimal. In fact, the dividend payout ratio actually fell to 33 percent of earnings this year from 35 percent last year.
"We are committed to bringing our dividend back into our targeted payout ratio of 45 percent to 55 percent of earnings in steps over time," Craver told analysts last week. "We recognize that redressing this imbalance is job No. 1 for many of our investors."
Now, analysts are expecting double-digit annual percentage growth in dividends for the next several years.
"Edison, due to a low payout ratio, maintains significant room to increase dividend levels," Goldman Sachs & Co. analyst Michael Lapides said in his most recent Edison research note. "We assume growth of 10 percent to 13 percent annually, but growth could exceed this level."
Assuming the San Onofre settlement is finalized as expected this month, the next big focal point for investors will be SCE's proposal that's now pending before the PUC that would set customer rates for the next three years. The commission is expected to rule on the rate proposal sometime next year.
As of now, Lapides, Agha and other analysts say they don't expect the outcome of SCE's rate case before the commission to change their bullish assessments for Edison's share price.
For reprint and licensing requests for this article, CLICK HERE.