Lakers Channel Broadens Focus as Team Drops Ball
TV: Time Warner Cable beefs up offerings as another dreadful season looms.
Monday, November 3, 2014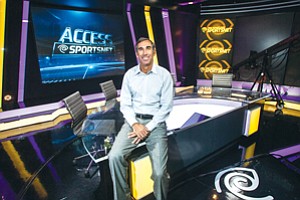 As the Los Angeles Lakers' season tipped off last week, the team's home for local broadcasts was hoping for a ratings rebound.
After a falloff in viewership at the tail end of last season, Time Warner Cable SportsNet made efforts in the off-season to reinvigorate its offerings. The El Segundo sports channel's first Lakers broadcast of the season was Oct. 29, a 119-99 loss to the Phoenix Suns.
"We really invested in the off-season to make sure folks see us hit the ground running," said Mark Shuken, senior vice president and general manager at Time Warner Cable Sports Networks.
Those investments include the rollout of an updated mobile app offering on-demand programming and Twitter integration as well as a revamped website. The channel's other off-season moves included hiring former Laker and 16-year National Basketball Association veteran Antawn Jamison as an on-air host and changing the channel's graphics for a sleeker look.
But the bells and whistles will only keep viewers engaged so long, and the challenge for the channel will be to maintain ratings over the six-month season if the Lakers perform – as expected – at or near the bottom of the Western Conference. Last season, viewership of the channel's game broadcasts cratered as the team was eliminated from playoff contention.
Last season's first game on SportsNet was watched by about 331,000 people. By April the broadcasts averaged only about 81,000. That was quite a comedown from the prior season. In April 2013, as the Lakers were making a playoff push, the channel's broadcasts had their highest-rated month, with an average of 519,000 people tuning in.
Still, despite last season's losing record, the Lakers were still one of the biggest draws in the NBA. Only the New York Knicks had a higher average number of viewers for local telecasts, according to the Sports Business Journal.
SportsNet carries all of the Lakers games not available on national television. It also carries supplemental team coverage, related shows and Galaxy pro soccer and Sparks women's basketball games. Its companion Spanish-language channel, Time Warner Cable SportsNet Deportes, offers similar programming. Both channels are available on pay-TV services as far north as Fresno and in Hawaii and parts of Nevada.
Among the programs it uses to stoke interest is weekly reality show "Backstage: Lakers," which is intended to give greater access to the team with behind-the-scenes footage.
"That's a better model than the traditional model of show the games and go away," said Ed Desser, president at Santa Monica consultancy Desser Sports Media, who advised the Lakers on the team's 2011 TV rights deal with Time Warner Cable.
Prev Next
For reprint and licensing requests for this article, CLICK HERE.