Foreign Entrepreneurs Click in L.A.
TECHNOLOGY: Tapatalk joins wave rolling into Silicon Beach.
Originally published November 3, 2014 at midnight, updated November 5, 2014 at 6:21 p.m.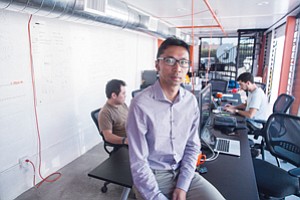 About a year ago, Hong Kong-born Tapatalk co-founder Winter Wong had a problem.
He and co-founder Yao Hu knew their smartphone app company needed to revamp its business model, but they didn't think the company's Shanghai home base had the resources to help them achieve their goals.
So he looked west – far west.
"We wanted to have a presence in the U.S., because most of our customers are in the U.S.," Wong said of his service, which streamlines multiple online forum conversations through a single app.

Wong, like an increasing number of foreign-born entrepreneurs, found a hospitable startup climate in L.A.'s growing tech sector. Coupled with a huge influx of venture capital dollars and big-money exits, this migration of talent is another sign of the area's growing clout.
Wong took Tapatalk through Santa Monica accelerator Mucker Lab's third class earlier this year, culminating with a $5.8 million seed funding round in June from Palo Alto VCs Floodgate and Accel Partners. The company's app has now been downloaded 10 million times.
Wong said he chose Mucker Lab over 500 Startups in Mountain View, which also offered him a spot in its accelerator program, in large part because of the business culture he encountered while visiting Los Angeles.
"It's a more forgiving tech atmosphere," he noted.
Silicon Valley's dog-eat-dog mentality didn't appeal to him nor did that area's overwhelmingly insular tech scene.
"It's a more balanced atmosphere here," said Wong, who's now based in Santa Monica. "Everyone in Silicon Valley asks you, 'What's your startup pitch?'"
Australian Ken Shaw, who moved his cloud-storage company Infrascale from Melbourne to El Segundo in 2006, echoed similar sentiments about the Bay Area.
"Silicon Valley is one of the clique-iest environments in America," Shaw said. "It's hard to break into that as a foreigner."
Kevin Winston, founder and chief executive of tech networking group Digital LA, said the city's tech scene has a different reputation than its neighbor to the north.
"Since we're not the size of Silicon Valley, everyone wants everyone else to succeed," he said. "We all want to rise up together."
Winston, who also founded the annual Silicon Beach Fest, said the event for the past three years has hosted an international panel featuring entrepreneurs with connections to Los Angeles.
He said that he's noticed an increase in foreign-born entrepreneurs coming to Los Angeles over the past two years, pointing to President Barack Obama's recent tech town hall event at Santa Monica's Cross Campus as something that will help get the word out even more.
"It was a nice feather in the cap," Winston said. "The tech scene here has started to get on the world stage."
Building blocks
But international startups don't just choose Los Angeles for the warm smiles and friendly faces.
Over the past two years, an infrastructure has been erected around the local technology industry in the shape of venture capital funds, startup accelerators and networking groups that make it possible for outsiders to take full advantage of the area's vast resources.
"Entrepreneurs can tap into networking, fundraising contacts and hiring assistance," said Paul Bricault, co-founder of Venice's Amplify LA accelerator and a venture partner at the Santa Monica office of Greycroft Partners. "I think that's accentuated further if you're out of state or out of the country because your networks are not local."
Tapatalk's Wong said the accelerator experience breathed new life into his company.
"I didn't have any partners in the U.S.," he said. "What (Mucker) really helped with is to connect me with a lot of people in the industry," including local Web publishers to partner with.
He added that Mucker's mentors also helped him understand what metrics to aim for while scaling his company in the United States and converting the app into a free service.
Bricault said he's seen an increase in the number of foreign entrepreneurs coming through Amplify, particularly from Canada.
In addition to the hands-on guidance and mentorship that all companies receive at Amplify, the accelerator helps international entrepreneurs with their visa applications and assists them in finding a place to live, Bricault said.
It's reached the point, Bricault and Winston said, where corporate and government officials from Europe, Asia and elsewhere regularly reach out to them about setting up tours and networking events for tech leaders and innovators in their countries who are interested in doing business in Los Angeles or setting up shop in the city.
"Far more frequently than I've ever seen before, regional consulates and international companies are pursuing opportunities for their nationals here in L.A.," Bricault said. "Startups see they might have an opportunity to take advantage of and grow in a much larger market in the U.S."
Content is king
There are also plenty of practical realities that make Los Angeles the best choice for both American and non-American entrepreneurs looking to start a business, particularly those that either produce content or do business with creators.
"L.A. has a very ingrained content and media culture," said Rich Pierson, whose online meditation service Headspace Inc. moved to Venice last year. Pierson founded the company with fellow Brit Andy Puddicombe in London four years ago.
"I have definitely seen an increase in foreign-born founders head to L.A.," Pierson added.
Londoner Andrew Stalbow launched Santa Monica mobile-game studio Seriously with Finnish partner Petri Järvilehto last year. The pair met while working at Rovio Entertainment in Finland, though Stalbow previously served as the senior vice president for mobile at Fox Digital Entertainment in Los Angeles, a division of 21st Century Fox.
Seriously released its first game, Best Fiends, earlier this month and has raised $5 million in two seed financing rounds from Santa Monica's Upfront Ventures, Sunstone Capital and Daher Capital. The company also employs a 14-person development team in Helsinki.
"I thought this was a great place to do a mobile entertainment startup," Stalbow said. "It's the home of the entertainment industry, but there's a migration to digital that's happening very fast."
Money matters
Upfront, lead investor in Seriously's seed round, has backed numerous local entertainment-related tech startups, including Maker Studios, which was sold to Walt Disney Co. earlier this year in a deal that could be worth close to $1 billion.
"We also went with an L.A.-based venture capital fund that really seemed to get the intersection of entertainment and tech that we were very focused on," Stalbow explained.
Carl Kirchoff, a German entrepreneur who last year founded Venice sports streaming service EverSport Media Inc., also received much of his seed money from L.A. sources, including Amplify as well as individual investors Gordon Crawford and Lee Ann Daly.
EverSport's offices are located in Amplify's Main Street headquarters, where Kirchoff also mentors other startups.
"Anything related to content is still based out of Los Angeles," Kirchoff said. "Silicon Valley is good for product-related businesses, but they don't necessarily understand media companies."
Another foreign entrepreneur who founded his company in Los Angeles and received local venture capital is David Lassman, who also hails from London.
Lassman launched mobile app company Vyclone Inc. in 2011 with Joe Sumner, a British musician and son of Police bassist and front man Sting.
Their Venice company, which has a product that allows users to synchronize video clips from multiple phones and create one editable film, has received $4 million in funding from companies including A-Grade Investments, an L.A. tech fund co-founded by actor Ashton Kutcher, talent manager Guy Oseary and billionaire supermarket magnate Ron Burkle.
Still, Los Angeles makes sense for tech companies outside of entertainment, too.
Infrascale's Shaw, whose customers are corporations looking to store and protect data, said projected annual revenue doubled within the first three months after his company relocated to Los Angeles.
"If you're a business-to-business company, I think it's really important to be in a big local market," he said. "There are a lot more companies to sell to in Los Angeles than there are in Mountain View."
For reprint and licensing requests for this article, CLICK HERE.