Foreign Entrepreneurs Click in L.A.
TECHNOLOGY: Tapatalk joins wave rolling into Silicon Beach.
Originally published November 3, 2014 at midnight, updated November 5, 2014 at 6:21 p.m.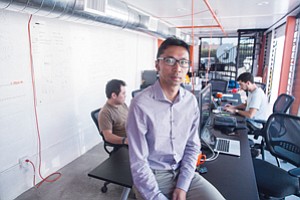 About a year ago, Hong Kong-born Tapatalk co-founder Winter Wong had a problem.
He and co-founder Yao Hu knew their smartphone app company needed to revamp its business model, but they didn't think the company's Shanghai home base had the resources to help them achieve their goals.
So he looked west – far west.
"We wanted to have a presence in the U.S., because most of our customers are in the U.S.," Wong said of his service, which streamlines multiple online forum conversations through a single app.

Wong, like an increasing number of foreign-born entrepreneurs, found a hospitable startup climate in L.A.'s growing tech sector. Coupled with a huge influx of venture capital dollars and big-money exits, this migration of talent is another sign of the area's growing clout.
Wong took Tapatalk through Santa Monica accelerator Mucker Lab's third class earlier this year, culminating with a $5.8 million seed funding round in June from Palo Alto VCs Floodgate and Accel Partners. The company's app has now been downloaded 10 million times.
Wong said he chose Mucker Lab over 500 Startups in Mountain View, which also offered him a spot in its accelerator program, in large part because of the business culture he encountered while visiting Los Angeles.
"It's a more forgiving tech atmosphere," he noted.
Silicon Valley's dog-eat-dog mentality didn't appeal to him nor did that area's overwhelmingly insular tech scene.
"It's a more balanced atmosphere here," said Wong, who's now based in Santa Monica. "Everyone in Silicon Valley asks you, 'What's your startup pitch?'"
Australian Ken Shaw, who moved his cloud-storage company Infrascale from Melbourne to El Segundo in 2006, echoed similar sentiments about the Bay Area.
"Silicon Valley is one of the clique-iest environments in America," Shaw said. "It's hard to break into that as a foreigner."
Kevin Winston, founder and chief executive of tech networking group Digital LA, said the city's tech scene has a different reputation than its neighbor to the north.
"Since we're not the size of Silicon Valley, everyone wants everyone else to succeed," he said. "We all want to rise up together."
Winston, who also founded the annual Silicon Beach Fest, said the event for the past three years has hosted an international panel featuring entrepreneurs with connections to Los Angeles.
He said that he's noticed an increase in foreign-born entrepreneurs coming to Los Angeles over the past two years, pointing to President Barack Obama's recent tech town hall event at Santa Monica's Cross Campus as something that will help get the word out even more.
Prev Next
For reprint and licensing requests for this article, CLICK HERE.