Worth a Look?
Early jump on viral videos pays off for Jukin
Monday, May 26, 2014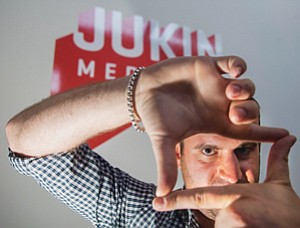 You've probably seen the viral YouTube video of a family cat saving a young boy who's being attacked by a dog. Or perhaps a friend emailed you the clip of a young man being kicked in the head by a train conductor while trying to take a selfie near the tracks.
If so, it's thanks to Culver City's Jukin Media, a 5-year-old entertainment company whose staff scours YouTube for videos the company can buy from creators before they take the Internet by storm.
Its biggest brand is FailArmy, a YouTube channel that boasts more than 5 million subscribers who watch videos with titles such as "Top 5 Crazy Horses" and "Ultimate Playground Fails."
Jukin raised its first outside capital earlier this month, a $1 million round from investors including Culver City's Maker Studios, Launchpad LA and New York's Bertelsmann Digital Media Investments. It plans to use the money to beef up technical operations.
Jukin's founder and chief executive, Jonathan Skogmo, 31, acknowledged that he owes a lot of his success to "America's Funniest Home Videos," the ABC TV show that helped popularize blooper videos with the American public.
"We're more of a digital, Gen-Y version," Skogmo said.
The secret to recognizing the next viral video sensation is elusive. Jukin uses its own YouTube channel and social media functions to build momentum for its content, but success is never assured.
While the company recognizes that only a handful of videos it buys will have the same viral success as the recent cat clip, even less popular videos can be marketed to specific publishers.
What Skogmo said Jukin looks for are "eventized moments," those that have an intangible, magical quality about them.
"It has to be so cool that you just stare at it," he said.
While recent research done at the University of Pennsylvania found people are more likely to share videos that elicit intense emotional responses, Skogmo has a more straightforward way of explaining FailArmy's popularity around the world:
"You can say ouch in any language."
Licensing model
Skogmo started Jukin, slang from his hometown of Chicago for something cool, after working as a producer on Country Music Television show "Country Fried Home Videos," a version of "America's Funniest" with a down-home twist.
After YouTube launched in 2005, Skogmo began incorporating online videos into the show, learning about licensing and intellectual property rights in the process. He bounced around to a few other clip shows before realizing he could create a business by aggregating content and representing video creators.
"From day one, the company has been profitable," Skogmo said of his business, though the company declined to disclose specific figures for revenue or income.
Unlike other multichannel networks, or MCNs, that contract talent to create content, Jukin buys videos from creators, which it then licenses to digital publishers such as Yahoo and television networks like CNN, among dozens of other regular partners. It also runs several branded YouTube channels.
"Licensing has always been our core business model," Skogmo said, "and it will continue to be."
Sometimes Jukin buys the videos outright, paying creators a flat fee of between $200 to $10,000 or more. Other times, rights holders will negotiate revenue-sharing deals in which they receive a percentage of future ad and licensing income. Jukin then markets the video to national and local broadcasters, which typically pay between $200 and $1,000 to air a video once, Skogmo said.
To his surprise, over the past two years Skogmo said that the business of licensing to websites has caught up to that of selling rights to broadcasters, both in terms of the number of deals Jukin has struck and in the rates it has been able to charge.
"We're licensing at the same rates for TV and Web," he said. "That's crazy to me."
Online rights deals generally involve a flat fee, though sometimes publishers pay based on how many clicks a video gets.
Sim Blaustein, a principal at New York's Bertelsmann Digital Media, said Jukin's distinct place within the YouTube ecosystem caught his eye.
"They're what I call an un-MCN," Blaustein said. "They've really hit on a very interesting model."
Jukin struck a deal in April with Maker Studios, acquired by Walt Disney Co. earlier this year, that would have the multichannel network distribute Jukin's videos and monetize them through its advertising network. It's also creating a standalone website for FailArmy.
The pair also plans to produce new shows centered on Jukin's clips that will also feature Maker talent.
"Our goal is to bring the best content to our audience on a global scale," said Chris Williams, Maker's chief audience officer in an April statement. "Jukin Media boasts one of the most viral and compelling video libraries in the world."
Jukin has also partnered with Dick Clark Productions in Santa Monica to create a "FailArmy" television show that will air overseas.
News cycles
After operating out of Skogmo's West Hollywood apartment until late 2010, the company now employs 38 people in a 6,500-square-foot Culver City headquarters on Jefferson Boulevard, which it moved into a few months ago.
In the early days, Skogmo said he acquired seven to 10 videos a week. Now, a good week sees Jukin reel in as many as 150. The company employs several people, including some in Europe, whose sole responsibility is to scour the Web looking for viral gems.
"We need to be there first," Skogmo explained of Jukin's round-the-clock system in which deals are completed within hours of finding a video. "If we're second, it doesn't really help us."
The company's biggest competitor is Dublin's Storyful, whose primary business involves acquiring user-generated videos for news organizations. New York's News Corp. bought Storyful for $25 million in December.
Jukin is more entertainment focused and its branded video channels are unique. However, many of its videos wind up on news broadcasts and websites.
"Two years ago, I never would have thought news would want this type of content," Skogmo said. "Now, everyone has a viral news segment. It's great for our business."
Gabriel Kahn, a professor at USC's Annenberg School for Communication and Journalism, said many news organizations are building digital strategies around fluffy content known as "click bait." While that might be good for Jukin, it can lead to news coverage geared toward the lowest common denominator.
"As long as people are chasing clicks and views," Kahn said, "you're just in this mass-market game."
Rights management
And if news organizations run Jukin's content without paying up, the company's staff will track them down.
"We've been very vocal – no more doing this for free," Skogmo explained.
Jukin also has access to YouTube's content management system, allowing it to find versions of its videos that have been copied and posted by other users. It then monetizes those videos by placing ads in front of them.
"This cat video had over 800 copies on YouTube," Skogmo said of the feline hero from Bakersfield.
The tricky part for Jukin is ensuring that content creators are who they say they are. Its rights management staff puts a lot of effort into the due-diligence process, Skogmo said, but every once in a while they get fooled.
"It's very rare," he said, "but we're able to catch it before anything happens with that video."
While most viral videos have the shelf life of rotting fruit, sometimes the creator can see revenue years down the road. Recently, an advertiser contacted Jukin about using one of its older videos in a marketing campaign.
"We got a pretty big offer recently for a video that's 3 years old," Skogmo said.
"The creator could see up to $10,000 in their pocket if it all goes down."
For reprint and licensing requests for this article, CLICK HERE.