Thinking Inside Box On Health
Vending machine firm launches snack service for small businesses.
Originally published May 26, 2014 at midnight, updated May 23, 2014 at midnight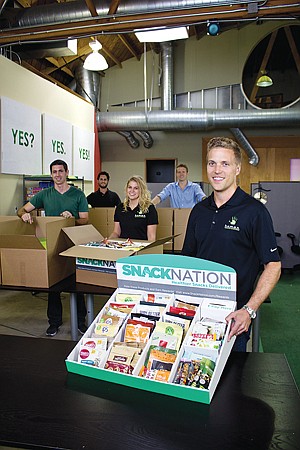 Sean Kelly wants to make it easier for people to get their hands on healthy snacks at work and home.
The chief executive of healthy vending machine franchise Helping Unite Mankind and Nutrition (Human) recently launched healthy snack delivery service SnackNation that targets small businesses.
The company, which franchises vending machines and self-checkout convenience stands, called micromarkets, to businesses with more than 100 employees is now going after a smaller market.
Nine out of 10 businesses, Kelly said, are too small to justify putting in a machine.
"We needed to find a way to service them and that's where SnackNation came from," he said.
Companies can choose three different monthly subscription plans, based on staff size. Rather than large vending machines, Human offers branded snack boxes, which cost from $249 for up to 160 snacks to $699 for up to 480 snacks.
The SnackNation program also gives the Culver City company a chance to test out emerging brands. A reward system, which might offer discounts or free products to encourage consumer feedback, is set to launch this year.
"In addition to providing popular items, we want to be the discovery source for people" said Kelly. "We want to introduce new snacks every single month because that's the cool factor."
Kelly and Andrew Mackensen, Human's managing partner, co-founded the company in 2008. It employs 35 and has signed up about 40 clients for its SnackNation service. It has sold about 2,000 vending machines across the country and 10 micromarkets in California to franchisees, which buy the snacks from the company and pay Human franchise fees and royalties.
– Subrina Hudson
For reprint and licensing requests for this article, CLICK HERE.