Search for Buyer Sheds Light on Solar's Future
ENERGY: Installation-only Verengo looks into sale as industry consolidates.
Monday, May 26, 2014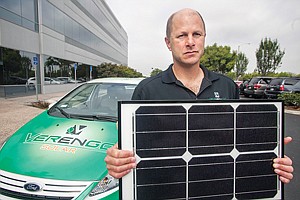 Verengo Inc.'s search for a buyer might show that solar panel installers could use more energy on the financing side of their business.
The Torrance company, which specializes in residential solar panel installation, has hired Bank of America Merrill Lynch to explore a sale of the company, according to a March document obtained by the Business Journal last week. Analysts believe that Verengo executives fear getting eclipsed in an industry trend in which solar installers are consolidating with solar financing companies.
Solar power companies that offer all services in-house have climbed to the top of the industry. The top two companies, SolarCity Corp. of San Mateo and Vivint Solar of Provo, Utah, which offer installation, sales and financing, have nearly 35 percent of the market combined.
Privately held Verengo is the country's third-largest residential solar energy installer, with about 5 percent of the market.
But unlike the two bigger companies, Verengo only provides sales and installation. It relies on partnerships with third-party companies such as Sunrun Inc., a solar power company in San Francisco, to provide financing for installations through leasing and power purchase agreements with consumers. So it's likely that Verengo is seeking a merger with a company that can provide in-house leasing services.
Verengo executives declined to comment for this article.
Nicole Litvak, a solar analyst at GTM Research in Boston, said that it's tough for installation-only companies to make much of a profit because they have to sell the equipment to a financing partner, who then controls the price.
At least two installation companies have already been acquired by financing companies this year.
"We have been seeing a lot of merger and acquisition activity and I think it's a matter of the leading solar companies trying to figure out what the best business model is for residential installation right now," Litvak said. "It's still a very young industry. … Companies will start to change the model. Sunrun acquired installer companies and pure installers are trying to become a company like SolarCity."
Verengo ranked No. 16 on the Business Journal's Fastest Growing Private Companies list last year. The company has installed about 11,500 residential solar panel systems in California, Connecticut, New Jersey and New York state. Verengo reported revenue last year of $116 million, up 7 percent from $108 million the previous year.
With that wide geographic reach, Verengo could be an attractive purchase by a large company such as SolarCity or a small startup looking to become vertically integrated, according to Conor McKenna, managing director at the Century City office of Reznick Capital Markets Securities who has worked on more than $1.5 billion in clean energy projects.
Prev Next
For reprint and licensing requests for this article, CLICK HERE.