Property Buyer Sees El Segundo Market on Rise
ACQUISITION: DivcoWest shells out $75 million for office-retail complex.
Monday, May 26, 2014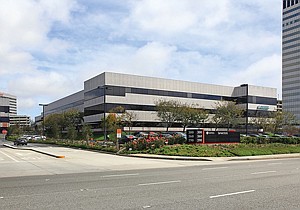 Miracle Mile developer J.H. Snyder Co. has sold a five-building office and retail complex it redeveloped in El Segundo in 2009.
DivcoWest, a real estate firm with dual headquarters in San Francisco and Boston, purchased the 339,500-square-foot Gateway El Segundo office park last month for $75 million, or about $220 a square foot. The transaction included $35.4 million in cash and the assumption of a $39.6 million loan from J.P. Morgan Chase, according to data service provider CoStar Group Inc.
The office park, at 300-460 N. Sepulveda Blvd., consists of about 328,000 square feet of Class B offices in three buildings and 11,500 square feet of retail in two smaller buildings. Both retail buildings were fully leased at the time of sale to casual restaurant tenants Five Guys Burgers and Fries, Rubio's Fresh Mexican Grill, Which Wich Superior Sandwiches, Malibu Fish Grill and PizzaRev. The office buildings were each more than 90 percent leased. Tenants include a number of health care providers, such as US HealthWorks Medical Group, Semel Vision Care & Aesthetics and Westchester Medical Group.
DivcoWest said it was attracted to the property because it's in an up-and-coming office market.
"El Segundo is becoming a key Los Angeles growth market for media and technology-related companies and is a highly desired residential location for both executives and L.A.'s younger, well-educated workforce," the company said in a statement.
That reputation is what made online retailer JustFab Inc. recommit to 15 more years in the area in March. El Segundo is considered one of the more affordable corners of Silicon Beach, with better access to large employee pools in the South Bay. Rents at the Gateway complex start at about $2.50 a square foot a month; rents for similar space in Santa Monica are considerably higher, closer to $3.50 a square foot a month.
Officials at Snyder declined to for comment.
David Doupe of Jones Lang LaSalle Inc. represented Snyder in the deal. DivcoWest handled negotiations internally.
NoHo Haul
A live-work loft complex in North Hollywood sold last week for almost twice as much as it went for just two years ago.
L.A. real estate firm Vista Investment Group bought the 68-unit complex at 5255 Cartwright Ave., known as the NoHo Lofts, for $18.7 million, or about $275,000 a unit. The seller, Westwood investment firm CityView, made a hefty profit on the property: It originally purchased the complex out of foreclosure in 2012 for less than $9.9 million.
The former warehouse in the North Hollywood Arts District was built in 1958 and converted into luxury live-work units in 2006. It has one- and two-level units with polished concrete floors and 25-foot ceilings. The building, about 97 percent occupied at the time of sale, is occupied by a variety of artists and business owners who work in industries such as graphic design, music, architecture, advertising and postproduction. The units are not subject to rent control.
Jonathan Barach, president of Vista, said his firm will invest an undisclosed amount of capital into upgrading unit interiors and shared building amenities, such as its fitness center, club room and rooftop deck.
"Through thoughtful branding, contemporary updates and active participation in the community, we plan to become the destination among artists and innovators in the Arts District," he said.
Andrew Kirsh, a partner at Century City law firm Sklar Kirsh who advises Vista, said the purchase also includes a 15,200-square-foot parcel of land across the street at 5354 Denny Ave., which is fully entitled for up to 20 more units and 80 parking spots.
"Our clients were attracted to this asset class because of the higher returns they can achieve compared to traditional multifamily," he said.
Kitty Wallace of Colliers International represented both the buyer and seller in the deal.
Infill Industrial
One of the largest parcels of land entitled for industrial use in Los Angeles sold last week for $20.5 million.
Century City real estate investment and development firm Magellan Group bought the 27-acre site at 4127-4213 Temple City Blvd. in El Monte from a joint venture of Wohl Property Group of Pasadena and Penwood Real Estate Investment Management of Hartford, Conn. The sellers purchased the industrial land in 2006 for nearly $24.5 million.
Kevin Staley, a principal and co-founder of Magellan, said the vacant industrial property was a natural extension of the firm's existing portfolio. Magellan also recently made industrial purchases in Duarte, Riverside and Baldwin Park.
"The opportunity to acquire this sizable infill site for industrial development aligns very well with our growth strategy in Southern California," Staley said in a statement.
Magellan, in a venture with Principal Real Estate Investors of Des Moines, Iowa, plans to spend an additional $34.5 million to build five industrial buildings totaling 500,000 square feet. The planned industrial park, to be called Magellan Gateway, is scheduled to complete construction in the third quarter next year.
John Minervini, Erik Larson, Robin Dodson and Chris Tolles of Cushman & Wakefield's downtown L.A. office represented both the buyer and sellers in the deal.
Staff reporter Bethany Firnhaber can be reached at bfirnhaber@labusinessjournal.com or (323) 549-5225, ext. 235.
For reprint and licensing requests for this article, CLICK HERE.