Ticket Seller's Next Stage To Line Up More Venues
ENTERTAINMENT: AXS to challenge Live Nation by moving beyond AEG sites.
Monday, May 19, 2014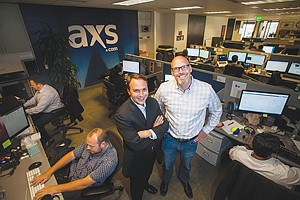 Entertainment giant Anschutz Entertainment Group of downtown Los Angeles is growing its ticketing division, AXS, with the goal of taking market share from industry leader Live Nation Entertainment, the Beverly Hills company that owns Ticketmaster.
AXS started out by selling tickets for events at AEG venues such as Staples Center. The company has also sold tickets in venues where its AEG Live division produces concerts. The division does nearly half of its business abroad, where ticketing deals go through promoters.
Now, three years in, the company is trying to lock up contracts with non-AEG venues – similar to the one it signed last year with the Gwinnett Center near Atlanta – a deal it took from Ticketmaster.
The question is how much business it can win in other highly competitive bidding contests as it expands from AEG properties.
"We're starting to turn our attention to selling to third-party clients," said Bryan Perez, president of digital, tickets and media at AEG. "We had to start with our buildings first, since that was a big part of the initiative and gave us critical mass."
AXS handles ticketing at dozens of AEG venues. The company is also handling ticketing at non-AEG venues for events such as an upcoming Railroad Earth concert at Red Rocks Amphitheater near Denver and a Real Madrid soccer game at the Cotton Bowl in Dallas. Those venues don't have exclusive ticketing deals – they allow promoters to bring in their ticketing firm of choice.
But the goal of AXS is to make more exclusive, years-long deals with venues, as it did with the Gwinnett Center, which hosts events such as the Southeastern Conference women's college basketball tournament.
AXS makes money by charging a venue a set amount or a percentage of the surcharge on each ticket. The company also makes money through other offerings such as website design and marketing on behalf of venues. The online features are essential in AXS' pitch to venues, said Tom Andrus, senior vice president and general manager at AXS.com.
Live Nation did not return a call for this article. In its most recent earnings, Live Nation said Ticketmaster has a net renewal rate with venues of "over 100 percent" this year. Ticketmaster had an operating profit of $102 million last year. Revenue was $1.4 billion, up 2 percent from 2012.
AXS is profitable, executives said, though they would not disclose specifics or how much it charges in per-ticket fees. AEG is privately owned by billionaire Philip Anschutz.
For reprint and licensing requests for this article, CLICK HERE.
Prev Next