Tall Order
DINING: Four franchises fold after Counter redesigns menus, restaurants in bid to compete in gourmet burger space.
Monday, May 19, 2014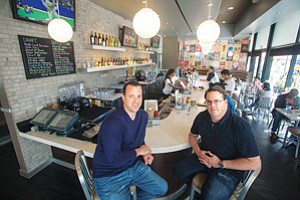 When Jeff Weinstein founded his customizable burger joint the Counter 11 years ago, it was a hit, getting mentions from GQ magazine as one of "20 burgers to eat before you die" and a thumbs up from Oprah Winfrey.
By last year, the chain had 38 franchised and three company-owned locations, mostly in California, and revenue estimated at more than $70 million.
But keeping things fresh is proving a bit more of a challenge. In the face of greater competition in the upscale burger space last year, Weinstein and co-Chief Executive Craig Albert embarked on a redesign of both the chain's look and menu. It was a costly process, anywhere from $50,000 to $150,000 a store, and franchisees were supposed to pay the tab as part of their franchise agreement.
Now, four franchised locations have shut down, leading to a dispute between their operators and the parent company over obligations under the franchise agreement.
Whether the closures were related to the added redesign costs, poor operational oversight or pressures from an increasingly competitive market are unclear. Neither the principals of the company nor the two franchisees that closed their operations would talk about the matter, which has landed in court.
Barry Kurtz, franchise law attorney with Encino firm Lewitt Hackman, said such disputes can almost be expected with once-hot franchise restaurants.
"There's usually a big splash when they open," said Kurtz. "They start opening more restaurants and getting more coverage and then there's a point where between the number of restaurants and the competition … the petals start coming off the rose."
Competition is stiff in the restaurant business, Kurtz said, and the Counter is but one of a slew of gourmet burger restaurants that call Los Angeles home, including Umami Burger, Golden State and Slater's 50/50.
Darren Tristano, executive vice president of Chicago market research firm Technomic Inc., said one of the Counter's advantages was that it was an early entrant to the gourmet burger craze. But over the years, he hasn't seen the company grow as strongly outside of California compared with its counterparts.
Technomic estimated Counter's 2013 sales at $70.4 million, up 4 percent from the previous year.
He said the burger industry, dominated by quick-service chains like McDonald's and Wendy's but with a lot of smaller fast-casual players like the Counter, had U.S. sales of $75 billion last year, a modest 1 percent more than the prior year. When adjusted for inflation, sales actually declined.
Prev Next
For reprint and licensing requests for this article, CLICK HERE.