Rising Up
REAL ESTATE: Meta Housing to build Vernon's first private multifamily project, partly in response to corruption questions.
Monday, May 12, 2014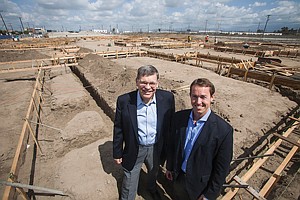 It generally takes a few generations for a city to double in population. Vernon is going to do it in about a year.
West L.A. developer Meta Housing Corp. broke ground last month on the first private multifamily housing development to be built in the city, population 112. The $12.8 million apartment community will bring 45 affordable units to the industrial enclave southeast of downtown Los Angeles.
The development, at 4675 E. 52nd St., will provide workforce housing for the three-shift city where more than 55,000 people are employed. Meta's small residential development is expected to boost the population of the 5.2-square-mile city to more than 200.
The project came as pressure mounted to boost local residency not just to address a lack of housing but the corruption that came with a small population beholden to the city's elected officials.
Vernon is home to just 29 residential units: eight apartments and 21 single-family homes, of which the city owns and rents 26. For years, those city-owned residences were leased at below-market rates to dozens of people with direct connections to city officials. Those people presumably voted favorably for city officials.
In 2010, the Los Angeles Times reported that Vernon City Council members often served for decades uncontested in elections and were among the highest paid in the state. The Times later reported that the city only charged tenants rents from $120 to $360 a month. Such disclosures spurred Assembly Speaker John Perez, whose L.A. district includes Vernon, to push a bill requiring that California cities have at least 150 residents, effectively challenging Vernon to grow or disband. Though city officials put up a fight and ultimately defeated the bill, they agreed to cap city salaries, reform housing policies and bring in more residents.
"At first we looked at the project a bit cautiously because it's in Vernon. We thought, 'Wow, is this a city that really wants to do residential?'" said Kasey Burke, president of Meta. "But it's actually a really good site, and once we understood the city's goals, we knew it was a development we could complete successfully."
Mark Whitworth, Vernon's city administrator, said the Meta project makes good on the city's effort to boost its population. The city donated the vacant two-acre lot to the developer after selecting the company from a handful of bids on the project. The city also loaned Meta $1.06 million, money the company said it leveraged to obtain Affordable Housing Program funding on the federal level and low-income housing tax credits from the state. The California Community Reinvestment Corp. and Bank of America provided loans for the project.
"I believe the result will be a very transparent and open form of government that will prove the city can run itself," he said.
Vernon Village Park
Meta, formed in 1993, is one of the largest developers of affordable housing in Los Angeles County. It has built 56 projects with affordable housing for families and seniors, and the Vernon project is one of a half-dozen for which it has broken ground in the last six months.
Eric Sussman, a senior lecturer at UCLA's Ziman Center for Real Estate in the Anderson School of Management, said Vernon and surrounding industrial areas have long had strong demand for quality affordable housing.
"Housing for the huge blue-collar workforce in that area is woefully undersupplied," he said. "If you're requiring market rate financing, it doesn't pencil, so you need some economic carrots from the powers that be to make it work."
The $12.8 million development cost does not include the value of the land, which Vernon leased long term to the developer at no cost. The developer subsequently applied for and received tax credits to fund the construction. The units will cost about $245,000 each to deliver, and Meta, which will own the development, will charge between $516 a month and $1,244 a month, depending on a tenant's income. Unit sizes will be one-, two- and three-bedrooms.
Meta will choose tenants, who must show they have an annual income that's 30 percent to 60 percent below the median county income, which in 2010 was $56,241.
The project, which sits less than a block from the concrete corridor that is the Los Angeles River, is called Vernon Village Park. At the city's southern border, it is across the street from a residential community in neighboring Maywood.
Vernon spokesman Fred MacFarlane said identifying a residential development site in a city where land is more suitable for industrial use than residential wasn't easy.
"Vernon has businesses that are in some cases not compatible with cul-de-sacs of homes. Many businesses settled here in part because they weren't going to be next to residents who might say, 'Not in my backyard,'" he said. "Vernon operates around the clock with employees, trucks and railroad trains coming and going 24-7. That's not bedroom community kind of stuff."
Burke said the project site's proximity to Maywood and various residential services that neighboring city offers made it a better location for an apartment complex than most of the rest of Vernon.
"Even though the project is in a city that's known for industry, we're very close to local schools, parks and a recreation center," he said.
Upon completion next summer, Vernon Village Park will bring even more amenities to its residents. Comprising five separate two-story buildings that Meta plans to build to meet high environmental standards, the apartment community will have a community center with a kitchen, computer and meeting rooms, and laundry facilities. There, free educational programs will be offered to residents, including job search and financial literacy classes. Wellness services, such as blood-pressure testing and nutrition planning, will also be available. Outside will be a courtyard and barbeque area, a playground and community gardens. To top it all off, the Vernon Police Department will have a small station on site.
"We wanted to get this project built as green as we could and we wanted it to be safe," said Whitworth.
For reprint and licensing requests for this article, CLICK HERE.