Old-Guard Fund Sees Investors Bond With Rival
INVESTMENT: DoubleLine has Pimco at loss for now.
Monday, May 12, 2014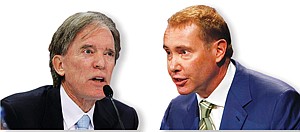 Things look bad for bond king Bill Gross, head of Pacific Investment Management Co. Investors have pulled money out of Pimco's flagship fund for 12 consecutive months amid turmoil at the firm. Meanwhile, investors have been pouring money into Jeffrey Gundlach's rival investment firm, DoubleLine Capital, in downtown Los Angeles.
Followers of the financial news media might have picked up the narrative thread of this "clash of the titans" story, which goes like this: Gross, 70, is losing his grip on the throne and Gundlach, 53, might unseat him soon; Pimco is the past, DoubleLine is the future.
But industry insiders are saying, "Not so fast." The recently diverging fortunes of Pimco and DoubleLine might have more to do with low interest rates and a hot stock market than the people at the top. Investors are running toward DoubleLine's higher yields rather than fleeing Pimco's tarnished reputation.
"I would not count Pimco out," said Mark Minichiello, president of West L.A. money manager Quincy Cass Associates. "They've been around for a long time. This is a hiccup."
The narrative thread feeds off these developments: DoubleLine recently launched two funds and poached a key executive from Pimco. The firm has delivered stronger returns than almost all of its peers. Meanwhile, Pimco, in Newport Beach, has slid from the top of the charts to below average.
Gundlach founded DoubleLine in late 2009, days after he was fired from his job managing $70 billion at the firm where he had worked for 24 years, Trust Co. of the West, better known as TCW. Most of the team that worked for Gundlach at TCW immediately defected to DoubleLine. The startup launched its Total Return Fund in March 2010 and quickly became the unstoppable force in bonds, performing in the top 2 percent of funds in its first two years. It is beating 90 percent of its competitors year to date, according to Morningstar Inc., an investment research firm in Chicago.
Meanwhile, Pimco has long been the immovable object in the fixed-income world, founded by Gross in 1971 and now owned by German insurance giant Allianz. Its Pimco Total Return Fund manages $230 billion in assets as of the end of April, down 21 percent from its peak of $293 billion in April of last year. It still dwarfs DoubleLine's Total Return Fund, which has about $32 billion in assets.
But Pimco's performance is hurting along with its cash flows, beating only 29 percent of funds in its category this year.
Neither firm responded to the Business Journal's request to comment for this article.
The second half of last year was a tough time for all bond funds. Investors pulled money out of funds at both DoubleLine and Pimco as they chased yields in a hot equity market. DoubleLine's Total Return Fund lost almost $9.6 billion in assets under management, as investors pulled out money every month between last June and January of this year, according to Morningstar.
But the company started to turn the corner in February, when it took in money for the first time in nine months. Investors have pumped more than $707 million into the firm's Total Return Fund over the last three months, according to Morningstar, or $810 million, according to DoubleLine. Over the same time period, Pimco Total Return has had $7.9 billion in outflows.
Also, Gundlach's firm recently launched two funds and even poached a Pimco executive, Ignacio Sosa, to launch a product line.
Meanwhile, Pimco has continued to bleed – and not just dollars.
First, Mohamed El-Erian, Gross' No. 2 and heir apparent, announced in January that he would be stepping down. Then, a Feb. 24 Wall Street Journal article shed some embarrassing light on the drama at Pimco's headquarters.
The Journal reported that Gross and El-Erian had a loud confrontation on the firm's trading floor, with the two hurling personal insults at each other, shocking many observers. Morningstar downgraded Pimco's stewardship score in the wake of the management turmoil, and investors continued to flee the company's bonds.
Since then, they've been hitching their wagons to Gundlach and DoubleLine. But it appears to have a lot more to do with the characteristics of the funds themselves than the people in charge. DoubleLine's main investment strategy looks to be better aligned with what investors are seeking at this point than Pimco's.
Indeed, Pimco's Total Return fund is up 2.38 percent year to date. But DoubleLine's Total Return is up 3.58 percent – about 50 percent greater.
The DoubleLine Total Return fund invests in bonds for an average duration of 3.8 years, compared with Pimco Total Return, which holds them for 5.4 years on average. Shorter-duration funds are less sensitive to a rise in interest rates, which negatively impacts bond prices.
"That's something that is of interest to investors, given concerns about interest rates," said Sarah Bush, a senior mutual fund analyst at Morningstar who covers DoubleLine.
Minichiello agreed, citing the uncertainty in Ukraine and a slowdown in the Chinese economy as two factors likely to push interest rates higher.
However, duration alone doesn't explain the extent of the move away from Pimco. Differences in holdings matter, too.
Investors are also putting their money in DoubleLine because its focus on mortgages, which make up 90 percent of the Total Return Fund's holdings, has historically generated higher yields than other funds in its peer group. This can be a sign of risk or illiquidity, Bush said. However, given the low returns on bonds over the last two years, people managing money are increasingly willing to chase them.
"The reality is, if you're living on fixed income, you want the higher yields," Minichiello said. "These low rates have put the squeeze on a lot of income-dependent investors."
Pimco, which keeps 75 percent of its Total Return Fund in cash and government bonds, has been going after higher yields, stepping outside its comfort zone and making ill-fated investments in Brazilian and Russian debt.
Gundlach, who has a history of successfully investing in riskier assets, has had a better time going after returns. He has a big position in nonagency mortgages, which are not guaranteed by the U.S. government and are therefore considered higher risk.
"There's certainly credit risk in some of those mortgages, but he really bought them at very low prices and the fund has benefited from them," Bush said.
The Business Journal spoke with three wealth managers who put money into DoubleLine and Pimco. They were bullish on DoubleLine because of Gundlach's success and strategy, but they said it was too soon to write Pimco's epitaph. They believe reports of Pimco's demise based on a couple of bad news cycles are premature.
"Perhaps some advisers may be erring on the side of caution by moving money out of Pimco," Minichiello said. "But no firm is one person or two people. It will sort itself out."
For reprint and licensing requests for this article, CLICK HERE.