Waiting Rooms
Hoteliers' plans hinge on NFL stadium project
Monday, May 5, 2014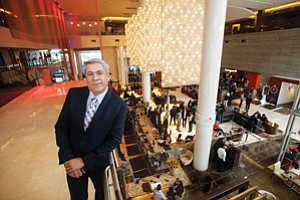 The sports buzz in downtown Los Angeles has tended to focus on the Clippers, the Lakers and whether an NFL stadium will be built. But the real money seems to be engaged in a game of dominoes.
As downtown booms, the economy recovers and regional tourism is on the rise, the area around the Los Angeles Convention Center is facing a shortage of up to 4,000 hotel rooms, according to Convention Center officials. That shortage is keeping potential conventions from booking the facility, which in turn is holding developers back from building more hotels.
"It's that chicken and egg," said Bud Ovrom, the Convention Center's executive director. "Conventions don't want to come here because there's not enough hotels. The hotels don't want to build because there's not enough conventions."
The domino that hasn't fallen – and which could start a chain reaction of construction – is Anschutz Entertainment Group's proposal to build a National Football League stadium on the site of the Convention Center's West Hall. AEG's memorandum of understanding with the city enabling the construction will run out in October, and if a team has not been secured for the site and AEG does not pursue an extension, the dominoes will start to fall.
If no stadium is to be built, the city will pursue what it calls Plan B, spending between $200 million and $300 million to renovate the Convention Center instead of razing West Hall. An upgraded Convention Center would allow Los Angeles to compete for more conventions, requiring more hotel rooms.
Plan B would involve upgrading West Hall and constructing a hall that passes over Pico Boulevard to connect it with South Hall, creating a more contiguous space. The city's plan also envisions a 1,000-room hotel inside the reconfigured Convention Center.
Sense of cost
Financing of Plan B is still up in the air, but the Bureau of Engineering has begun reaching out to architectural firms to see what the new Convention Center might look like. This would give the city a better sense of expected costs, according to the Los Angeles City Administrative Office. The renovations would also increase exhibition space to 1 million square feet.
The Convention Center hosts between 25 and 30 conventions a year, said Patti MacJennett, senior vice president of business affairs at the Los Angeles Tourism & Convention Board. Those conventions are served by fewer than 2,400 hotel rooms within walking distance of the facility. Even with about 1,500 hotel rooms under construction in the market now, downtown is still well behind other cities with which it competes in the convention market. San Diego has more than 8,000 rooms within walking distance of its convention center. Anaheim has about 7,000 and San Francisco boasts 14,000 rooms, according to Ovrom.
By those measures, the city's desire to add 4,000 rooms in the market by 2020 seems modest.
The shortage of rooms is not tied entirely to conventions and it is not all bad news. MacJennett said not having enough hotel rooms indicates Los Angeles is becoming a more attractive tourism destination. Los Angeles had 42.2 million visitors in 2013, moving it slightly closer to its visitor goal of 50 million by 2020.
"We are concluding our third consecutive year of record-breaking visitation numbers," she said. "And 2013 was another 2 percent higher over the previous year of 41.4 million visitors. We're expecting to break another record this year."
The increase has been great for the hotels, as Los Angeles County sold a record 27.2 million room nights last year, a 2 percent increase from the year earlier.
To be sure, some developers are taking advantage of those trends and building downtown regardless of the presence of a football stadium or rehabbed Convention Center.
Marriott International Inc. is wrapping up construction of a 219-room Courtyard by Marriott and a 174-room Residence Inn by Marriott, both expected to open near L.A. Live this month. The company is also starting construction early next year on a 450-room Renaissance Hotel in the same area.
A few blocks north, the Korean Airlines tower being built at Wilshire Boulevard and Figueroa Street will replace the 936-room Wilshire Grand hotel with a 900-room hotel.

Javier Cano, vice president and market general manager overseeing both the Ritz-Carlton and JW Marriott hotels at LA Live, said he's seen some nice growth over the last four years for hotels in Los Angeles.
"For our hotel in downtown, we've seen a tremendous growth," said Cano. "You've got more people living in downtown L.A., which has brought a lot more businesses and restaurants, and visitors all want to go where the locals go."
He said the city is in need of more hotels, but future development hangs on the anticipated renovations to the Convention Center.
"It's an interesting situation," he said. "We do have a need for more hotel rooms – but if and when we have the Convention Center work done."
Ted Tanner, executive vice president of real estate development for AEG, wouldn't comment on where the company stands with regard to the football stadium, but warned against overdevelopment.
He said AEG recognizes the demand and is taking action to deliver more rooms, citing Marriott's new properties opening this month.
When the 878-room JW Marriott and 123-room Ritz-Carlton opened in 2010, Tanner said it helped lift hotel occupancy and room rates.
"I would hate to see it go the other way," he said. "Where so many hotels open within a short period of time and it drives the rate down or reduces the occupancy and what was the lifting of all boats begins to be a negative effect."
For reprint and licensing requests for this article, CLICK HERE.