Star Shine
Reality show gets ritzy pawnshop out of hock
Monday, March 24, 2014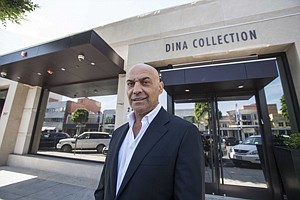 A flashy new store on Beverly Drive seemed like an ideal location to sell designer jewelry, but Yossi Dina said he began to have second thoughts soon after opening his shop two years ago.
Rather than drawing customers, the glitzy, Tiffany-like exterior turned off shoppers who felt intimidated by the environment. Foot traffic failed to materialize and soon the $10 million he invested in the property began to look like a costly error.
"I thought, 'I made a big mistake,'" Dina recounted from inside his office at Dina Collection, a 5,000-square-foot pawnshop emporium in Beverly Hills. "People would come, look and then leave. In their mind, they feel like they have no bargain."
Then came an offer from a television producer who helped turn Dina's fortunes around.
Now the star of "Beverly Hills Pawn" on the Reelz channel, Dina has seen his business boom thanks to the exposure that comes from having his brand – and face – in front of as many as 2 million people in the United States alone several times a week in the peculiar pawnshop subset of the reality TV phenomenon.
"I knew this is the only way I could bring my customers back," said Dina. "It was a good risk. The TV brings me pieces."
Jonathan Koch, one of the show's executive producers, said the decision to do a reality show should be a no-brainer for business owners.
"If I were going to start a business today," said Koch, president and chief creative officer of Asylum Entertainment, "I would build it to be a reality show. It's such easy math."
Indeed, Dina is not the only Beverly Hills pawnbroker with a reality television series.
Jordan Tabach-Bank, chief executive of Beverly Loan Co., appears on the Discovery Channel show "Final Offer," where he and three fine-art dealers battle it out to acquire rare collectibles.
Still, thanks to the economics of the pawn business, where borrowers collateralize short-term loans with items that can be sold by the pawnbroker if the loans are not repaid within an allotted time, television success comes at a cost.
The sea of items that flows through Dina's doors each month requires a tremendous outlay of cash.
"I hate to say I'm desperate," Dina said. "But I need money all the time."
To keep up with the volume of product coming in, he said that he funds the business with money borrowed from a pool of about 20 individuals, to whom he pays between 10 percent and 12 percent interest. Asked how much he owes, Dina produced a printed balance sheet that displayed a number north of $20 million.
High volume, margins
Dina's volume makes him willing to pay that kind of vig to run his business.
In his back office, surrounded by Franz Kline and Wassily Kandinsky paintings from his personal collection, Dina fondles a diamond Van Cleef & Arpels bracelet between his fingers that he hopes to sell to a teenage TV actress who stopped by the store.
Dina said that the volume of items he receives has shot up so much since the show started last year that he doesn't have to worry about making huge margins on each one.
"I can buy this for $90,000 and I'll sell it for $92,000," he said, holding up the diamond bracelet. "Before, I'd buy this for $90,000 and sell for $120,000."
Pawnshop customers, at least those who bring expensive goods into the shops in Beverly Hills, don't necessarily fit the stereotype of the down-on-their-luck borrowers who need rent money.
Tabach-Bank said his L.A. store and a new outlet in New York receive many items from business owners looking for short-term cash infusions who for one reason or another can't get a bank loan. Sometimes they might not have met monthly sales targets, but oftentimes the customer could be looking to catch up with demand by hiring new staff and could be temporarily pinched for cash.
"Business may be booming," he added. "It's not necessarily a negative."
Tabach-Bank said the pawnshop reality TV craze, which started with the debut of the History Channel series "Pawn Stars" in 2009, came at a time when conventional lenders were shrinking lines of credit to consumers, including businesses.
"It's not people that need to eat," Dina agreed. "It's people that need to increase their business."
He is more outspoken about banks' lending practices.
"Banks give money to people that don't need money," he said. "If you ask me, I hate banks."
Fearing worst
An Israeli-born former door-to-door jewelry salesman, Dina freely acknowledged that he dug a huge financial hole for himself when he launched his glitzy store.
He bought the building on Beverly south of Wilshire Boulevard about five years ago for $6.7 million, he said. He then forked over an additional $3 million during the three-year remodeling process, plus $300,000 in relocation fees for the existing tenants. He also had to hire additional staff.
"When you think about it moneywise, it's a big mistake," he said of his expenditures, noting his monthly mortgage also far exceeds the rent at his old store less than one mile away, where he operated for more than 20 years.
Without the anticipated uptick in profits after the move, Dina said he seriously considered closing down his shop for good.
While he was initially reluctant to sign on for the show, now that he's 36 episodes in, Dina said business has "increased big time."
And that increase has mostly occurred in the quality of the pieces, he said. "I can tell you I've seen a lot of stuff I've never seen in my life," including items from royal collections.
The vast majority of his very high-end deals never wind up on screen because the individuals request complete confidentiality.
Although Dina was a bit reluctant at first, he said that he got a seven-figure fee for agreeing to do the show, which certainly was a positive.
"He's the kind of person any producer would hunt," said Koch. "He was both interested and trepidatious."
Dina even counts Reelz Chief Executive Stan E. Hubbard as one of his customers. The network boss said he bought a little necklace for his wife as a Christmas gift.
Branding opportunity
Marketing expert Ira Kalb said reality TV exposure can be especially beneficial for a retail business since it creates buzz around a store and its employees.
"A pawnshop tends to be generic," said Kalb, a professor at USC's Marshall School of Business. "This is a pawnshop with a brand identity."
On top of the store's celebrity clientele and an increased tourist trade, Dina said he receives a barrage of emails from individuals as far away as Poland, South Africa and Australia who have seen the show and want him to look at their goods. Soon, he'll head to Texas to examine a jewelry collection potentially worth $3 million that was bequeathed to a woman from her mother. The potential client asked Dina to visit her in person.
"You think I'm going to let this deal go?" he asked, rhetorically. "No, I will go there."
Of course, a downside of doing a reality show is the time it takes. Dina said the production schedule takes time away from his personal life, but he's OK with that because he knows it's in the store's best interest. He films three to four days a week in three-month stretches, but Dina said he's always free to stop shooting in order to help an important customer, which happens two or three times a day.
"They're very flexible," Dina said of the "Beverly Hills Pawn" crew.
Dina, Kalb and Tabach-Bank all said that the prominence of pawnshops on television over the past few years has helped erase much of the shame associated with going to a such a store for a loan.
"There's an embarrassment that comes along with getting a pawn loan and there shouldn't be," Tabach-Bank said, pointing out that homeowners borrow against the value of their houses all the time. He added that "Pawn Stars" also aided in debunking the notion that pawn stores are rife with stolen goods.
Kalb said that viewers assume pawnshops are more of a legitimate business because they're on TV.
"I think people have a better understanding of what a pawnshop does" after watching the show, said Reelz Channel's Hubbard, attributing the show's popularity in part to Dina as someone whose successes viewers can aspire to.
Dina isn't shy about taking credit for changing the public perception of his industry as one full of loan sharks.
"I changed the way you think about pawnshops," he said. "My customers become my friends. I get invited to more weddings and Bar Mitzvahs than anybody in this world."
For reprint and licensing requests for this article, CLICK HERE.