Star Shine
Reality show gets ritzy pawnshop out of hock
Monday, March 24, 2014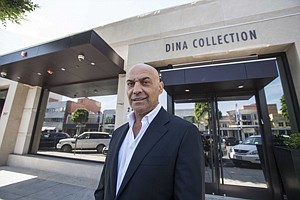 A flashy new store on Beverly Drive seemed like an ideal location to sell designer jewelry, but Yossi Dina said he began to have second thoughts soon after opening his shop two years ago.
Rather than drawing customers, the glitzy, Tiffany-like exterior turned off shoppers who felt intimidated by the environment. Foot traffic failed to materialize and soon the $10 million he invested in the property began to look like a costly error.
"I thought, 'I made a big mistake,'" Dina recounted from inside his office at Dina Collection, a 5,000-square-foot pawnshop emporium in Beverly Hills. "People would come, look and then leave. In their mind, they feel like they have no bargain."
Then came an offer from a television producer who helped turn Dina's fortunes around.
Now the star of "Beverly Hills Pawn" on the Reelz channel, Dina has seen his business boom thanks to the exposure that comes from having his brand – and face – in front of as many as 2 million people in the United States alone several times a week in the peculiar pawnshop subset of the reality TV phenomenon.
"I knew this is the only way I could bring my customers back," said Dina. "It was a good risk. The TV brings me pieces."
Jonathan Koch, one of the show's executive producers, said the decision to do a reality show should be a no-brainer for business owners.
"If I were going to start a business today," said Koch, president and chief creative officer of Asylum Entertainment, "I would build it to be a reality show. It's such easy math."
Indeed, Dina is not the only Beverly Hills pawnbroker with a reality television series.
Jordan Tabach-Bank, chief executive of Beverly Loan Co., appears on the Discovery Channel show "Final Offer," where he and three fine-art dealers battle it out to acquire rare collectibles.
Still, thanks to the economics of the pawn business, where borrowers collateralize short-term loans with items that can be sold by the pawnbroker if the loans are not repaid within an allotted time, television success comes at a cost.
The sea of items that flows through Dina's doors each month requires a tremendous outlay of cash.
"I hate to say I'm desperate," Dina said. "But I need money all the time."
To keep up with the volume of product coming in, he said that he funds the business with money borrowed from a pool of about 20 individuals, to whom he pays between 10 percent and 12 percent interest. Asked how much he owes, Dina produced a printed balance sheet that displayed a number north of $20 million.
Prev Next
For reprint and licensing requests for this article, CLICK HERE.