Overseas Appeals
LAW: Gibson Dunn touts recent Latin American wins for Dole, Chevron as it courts more work from multinationals.
Monday, March 24, 2014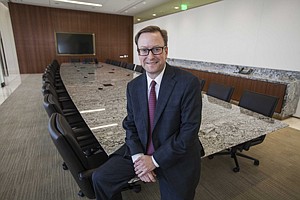 Judges recently handed down significant rulings in favor of Dole Food Co. and Chevron Corp. – good news for the companies and for their lawyers at Gibson Dunn & Crutcher.
The decisions, which came within a few days of each other, both related to Latin American lawsuits rejected as scams. And the downtown L.A. law firm has been building a special practice group to handle just these sorts of complex cross-border cases.
"It was an excellent week, I have to admit," said William Thomson, one of four Gibson Dunn partners who head the firm's transnational litigation and foreign judgments practice.
Gibson Dunn created the practice group in 2010. It had already won a few verdicts on behalf of Dole in related cases and Chevron had already hired the firm to fight a multibillion-dollar environmental suit in Ecuador. The group has since grown from 30 attorneys to 65.
This month's rulings won't end either of those cases, but Thomson said that he expects Gibson Dunn will draw more attention from multinational firms seeking to beat back or avoid international legal entanglements.
"We would expect there are companies interested in hearing more based on the success the group has managed in the Dole and Chevron litigation, and other matters," he said.
Big companies, he said, are more likely than ever to face transnational suits – cases filed against a U.S. company overseas or filed here on behalf of overseas plaintiffs – as the economy becomes more globalized. Today, it's not just oil companies and tropical fruit producers that risk such suits. Retailers, manufacturers and even restaurant chains, for instance, could face international legal fights over products made and sold all over the world.
"I think we can expect to see more cases like this," Thomson said. "The prospect of multibillion-dollar foreign judgments is, in all likelihood, attractive enough to U.S. plaintiffs lawyers to continue that trend."
New rulings
The Chevron ruling was handed down March 4 in U.S. district court in New York. The judge found in favor of the San Ramon oil company, saying that the plaintiffs' attorneys who won a $9 billion judgment in 2011 against Chevron in Ecuador had done so by presenting fraudulent evidence, coercing a judge and paying witnesses.
The ruling in favor of Westlake Village produce giant Dole was handed down March 7 in a California appellate court in Los Angeles. It affirmed a lower court's 2011 dismissal of a case in which Nicaraguan banana plantation workers alleged they had been made sterile by Dole's use of a now-banned pesticide in the 1970s. The lower court, and now the appeals court, ruled that the farmers' initial victory had been won by fraud, including faked lab results and falsified employment records.
While those two cases have similarities, Thomson said the work of the transnational litigation practice is much more diverse. One case could involve a plaintiff winning a court victory in one country and then trying to enforce foreign orders in the United States. Another example would be a suit brought against a company here based on events that took place abroad.
Peter Zeughauser, a law firm consultant in Newport Beach, said such transnational cases are becoming more common, especially in the United States. The court system here is favorable for plaintiffs' attorneys seeking to win big judgments from wealthy corporations, regardless of where the contested action took place.
"If you're a plaintiff and you're going to sue a multinational, this is where you're going to do it," Zeughauser said. "For a powerhouse litigation firm, it's definitely a growing opportunity."
Thomson said he hopes to win more business both by representing clients already facing international litigation and also by counseling clients to avoid litigation down the road.
"We want to work with companies to help them prepare themselves in advance and prepare for things that may go wrong in the future," he said.
Verdicts in favor of Dole and Chevron, as well as other clients including Mercedes-Benz maker Daimler AG, have helped build Gibson Dunn's reputation among corporate clients – and with plaintiffs' attorneys.
Julio C. Gomez, a Westfield, N.J., attorney who was on the losing end of the recent Chevron ruling, said the firm is a formidable opponent.
"They are professional, they are aggressive and they are thorough," Gomez said. "I think it is going to be very tough if they're involved."
He's only gone up against Gibson Dunn once and said part of the challenge is the firm represents big, deep-pocketed clients. Still, he credits its success to a mix of experience and tenacity.
"They draw on a variety of partners and associates with a broad range of expertise," he said. "They're not afraid to throw punches and they're not afraid to take some risky legal positions."
Gomez was referring to the fact that Gibson Dunn made an argument about federal racketeering law in the Chevron case but made a contradictory argument in another case. Gibson Dunn got the clients' permission first, a prerequisite for that type of risky move.
"Clearly they're not afraid to go into uncharted waters on behalf of clients," Gomez said. "If you cross your t's and dot your i's, you can do that. They've done it effectively in our case."
For reprint and licensing requests for this article, CLICK HERE.