Overseas Appeals
LAW: Gibson Dunn touts recent Latin American wins for Dole, Chevron as it courts more work from multinationals.
Monday, March 24, 2014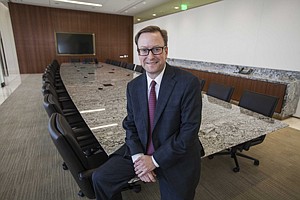 Judges recently handed down significant rulings in favor of Dole Food Co. and Chevron Corp. – good news for the companies and for their lawyers at Gibson Dunn & Crutcher.
The decisions, which came within a few days of each other, both related to Latin American lawsuits rejected as scams. And the downtown L.A. law firm has been building a special practice group to handle just these sorts of complex cross-border cases.
"It was an excellent week, I have to admit," said William Thomson, one of four Gibson Dunn partners who head the firm's transnational litigation and foreign judgments practice.
Gibson Dunn created the practice group in 2010. It had already won a few verdicts on behalf of Dole in related cases and Chevron had already hired the firm to fight a multibillion-dollar environmental suit in Ecuador. The group has since grown from 30 attorneys to 65.
This month's rulings won't end either of those cases, but Thomson said that he expects Gibson Dunn will draw more attention from multinational firms seeking to beat back or avoid international legal entanglements.
"We would expect there are companies interested in hearing more based on the success the group has managed in the Dole and Chevron litigation, and other matters," he said.
Big companies, he said, are more likely than ever to face transnational suits – cases filed against a U.S. company overseas or filed here on behalf of overseas plaintiffs – as the economy becomes more globalized. Today, it's not just oil companies and tropical fruit producers that risk such suits. Retailers, manufacturers and even restaurant chains, for instance, could face international legal fights over products made and sold all over the world.
"I think we can expect to see more cases like this," Thomson said. "The prospect of multibillion-dollar foreign judgments is, in all likelihood, attractive enough to U.S. plaintiffs lawyers to continue that trend."
New rulings
The Chevron ruling was handed down March 4 in U.S. district court in New York. The judge found in favor of the San Ramon oil company, saying that the plaintiffs' attorneys who won a $9 billion judgment in 2011 against Chevron in Ecuador had done so by presenting fraudulent evidence, coercing a judge and paying witnesses.
The ruling in favor of Westlake Village produce giant Dole was handed down March 7 in a California appellate court in Los Angeles. It affirmed a lower court's 2011 dismissal of a case in which Nicaraguan banana plantation workers alleged they had been made sterile by Dole's use of a now-banned pesticide in the 1970s. The lower court, and now the appeals court, ruled that the farmers' initial victory had been won by fraud, including faked lab results and falsified employment records.
For reprint and licensing requests for this article, CLICK HERE.
Prev Next