Firm Builds Tech Bridge Between Asia, Middle East
INVESTMENT: DPL taps South Korean money to back Israeli startups.
Monday, March 24, 2014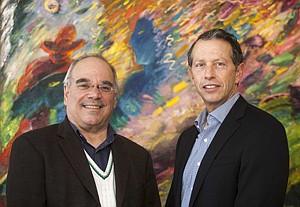 When Marc Feldman bumped into a South Korean executive at a Santa Monica luncheon three years ago, it was the first step in a process that now has him packing his bags for Israel: An opportunity in the land of milk, honey and startups compelled him to make that exodus.
Israel punches well above its weight in terms of creating businesses, especially those in the life sciences. It ranks first in the world in medical device patents per capita and second in biotech.
And South Korea, led by such brands as Samsung Group and LG Corp., has become a global leader in high-tech manufacturing. So Feldman and his team are looking to connect Israeli ideas with Korean production through a $50 million fund.
"The opportunity is in Israel's ability to create out of a lab and South Korea's ability to take an idea and commercialize it," said Feldman.
Feldman, a former senior manager who ran the Israel desk at private equity firm Shamrock Capital Advisors in West Los Angeles, and his partners Jerry Katz, an attorney with Glaser Weil in Century City, and veteran Korean investor David J.W. Suh, are now raising money for their Korea-Israel Life Science Fund. The trio formed a West L.A. company called DPL Asset Management.
The Korea-Israel fund will link early stage Israeli life sciences companies with Korean manufacturers, mainly by selling the Israeli companies to them or licensing their technologies, although it is also open to taking companies public if there are opportunities to do so. It will invest between $750,000 and $1.5 million and take equity stakes of 10 percent to 30 percent in its portfolio companies. Shamrock, which manages money on behalf of the Disney family, has committed to a follow-on investment of 10 percent of the fund size.
Feldman went to the Milken Institute one day in 2011 hoping to learn more about potential health care investment opportunities. He was intrigued by the presentations of several Israeli companies.
"It was one of the most compelling, interesting mornings," said Feldman. "Every company that was there had a novel idea."
On a break, Feldman met former LG executive named Yoon Suh, who had been living in San Francisco while looking to make investments in life sciences startups.
"We said, 'It would be great if we had money to invest in some of these opportunities,'" Feldman recalled.
Feldman and Yoon Suh, whose uncle was a founder of now-defunct Korean conglomerate Daewoo Group, began laying the groundwork for a fund to do just that. The pair took a two-week trip to Israel, meeting with entrepreneurs, researchers and politicians. Last year, Feldman asked his friend Katz, to join them. Katz, whose father fought in the Israeli war of independence and has deep connections to the country, said yes.
For reprint and licensing requests for this article, CLICK HERE.
Prev Next