Businesses Still Battle Disability Suits
LAW: Plaintiff attorneys raise costs by going straight to filing.
Monday, March 24, 2014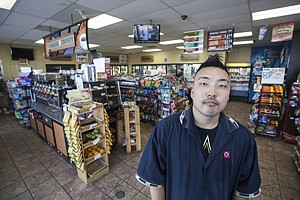 Convenience store owner Frank Ahn was hit last year with a lawsuit alleging a handicapped access aisle in his parking lot was three feet too narrow. As he was widening the aisle, Ahn got sued a second time for the same violation.
That was not supposed to happen under a state law passed two years ago in response to business complaints about abuse of the Americans With Disabilities Act. Even though he showed proof that the violation was corrected, Ahn might have to pay a settlement for that second lawsuit; the total cost including attorney fees could hit $4,000.
"There is no mechanism for us to prove to them that we were fixing the problem," he said. "We just have to pay the money."
Such demands for money were supposed to have been reined in by a 2012 state reform law, SB 1186. The bill was passed in response to mounting business anger over letters sent by ADA plaintiff attorneys demanding several thousand dollars each in settlement money to avoid lawsuits. The bill tried to limit such demand letters, requiring a copy to be sent to the California State Bar for review and possible enforcement action against those plaintiff attorneys who had a pattern of sending out numerous letters.
But defense attorneys say that plaintiff lawyers have simply shifted tactics. They have stopped sending the demand letters and now file suits targeting business owners such as Ahn, who owns a Circle K in Van Nuys, and hundreds of others like him in Los Angeles County alone.
"If you're a plaintiff attorney, you can still make any demand you want, just file your lawsuit first," said David Warren Peters, Ahn's attorney and chief executive at the San Diego office of California Justice Alliance, a statewide firm that represents business owners hit by ADA lawsuits. "What's worse, now the monetary demands are higher because plaintiff lawyers throw in legal fees for filing lawsuits."
Ahn's example is revelatory. Actually, he's faced three ADA lawsuits in three years. The first was filed in 2011, alleging discrimination because an employee questioned a man who was bringing a service dog into the store. The employee allowed them in, but Ahn was hit with a suit months later. He paid a settlement of $4,000 plus attorney fees.
The suit over the handicapped access aisle last year sought $25,000 in damages. Ahn decided to bring in a state-certified consultant to go through the store to ensure that it was fully compliant for disabled access. The consultant said the store and parking lot were largely compliant, but he suggested several additional steps – including adjusting the height of bathroom amenities – as a guard against further lawsuits. The fixes came to $24,000.
For reprint and licensing requests for this article, CLICK HERE.
Prev Next