Tide Finally Turns In San Pedro for Residential Project
DEVELOPMENT: Long-stalled residential project at a former Navy housing complex sets sail in San Pedro.
Monday, March 10, 2014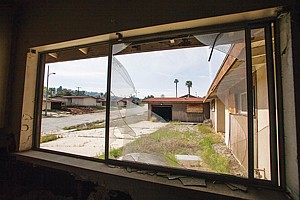 A long-stalled 61-acre residential project in San Pedro has been given the go-ahead by the Los Angeles City Council, paving the way for work to begin on one of the largest infill residential developments in the city.
New York real estate investment trust iStar Financial Inc. last week received unanimous approval to move forward with Ponte Vista, a 676-unit development at a former U.S. Navy housing community that has lain fallow for 17 years. The vote came after iStar, which took control of the project in 2010, presented a significantly downsized plan that resolved a contentious debate over the density of the original 2005 plan, which called for a 2,300-unit, mixed-use urban village.
With the project entitled, iStar will begin demolishing dilapidated homes on the property next month, making way for a mix of single-family homes, townhomes and stacked single-level flats.
Steve Magee, executive vice president of land and development for iStar, said that if all goes smoothly, he expects the first homes in the neighborhood to be under construction early next year. Before that can happen, the site, which the Los Angeles Police Department has for years used to train SWAT teams, needs a thorough cleanup and updated infrastructure.
"Immediately after we demo the old Navy houses, we'll begin to put in backbone infrastructure: water and sewer lines, roads and recreation areas," he said.
Magee said iStar will likely partner with one or more local homebuilders to develop the site, selling off individual parcels of entitled land. The firm has already employed that strategy to begin developing a 1,400-unit master planned community in Riverside called Spring Mountain Ranch. There, iStar entered into a venture with Westwood's KB Home.
David Waite, a land-use attorney for Century City law firm Cox Castle & Nicholson who represented iStar in the approval process, said he believes the property will fill a need in the community for more varied housing options.
"The site now, it's the definition of blight," he said. "The project will be great for a region that needs a broad mix of housing types that will appeal to first-time homebuyers, move-up buyers and even empty nesters."
Magee said iStar's plan calls for six different housing types, which the company expects will be priced from close to $500,000 to more than $1 million for some of the larger single-family homes. The average pricing across all models should be somewhere between $600,000 and $750,000.
For reprint and licensing requests for this article, CLICK HERE.
Prev Next