'Net Dreams
Sit 'N Sleep in drive to boost online mattress sales
Monday, June 30, 2014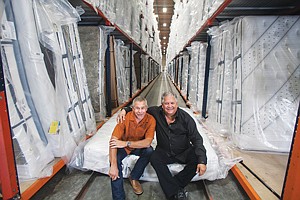 Most mattress retailers don't pad out their online presence. But Larry Miller – yes, the "your mattress is fre-e-e!" pitch man – isn't lying down on the job as far as e-commerce is concerned.
The chief executive of Sit 'N Sleep hired a Marina del Rey firm, Wingman Advertising, to bring his website up to date to help boost his modest online sales. More significantly, he's introducing online video tours of the mattress-shopping experience in hopes of drawing more customers to his stores to buy bedding. In a way, it's "showrooming" in reverse.
"If you don't try new things, you're dead," Miller said. "A company that looks, feels and tastes the same way five years from now is a dying company."
But what he's doing online is unusual. Brian Diedrick, director of digital marketing at Wingman, said he was surprised to find that video isn't at all common in the world of mattress marketing.
"Looking at which mattress retailer has video, we found out that the answer is essentially no one," Diedrick said. "Not only do our local mattress retailer competition not have video, but looking at Macy's or even Amazon, we were almost shocked to find systematically no video for individual mattress products."
Miller said he now sells mattresses online to local, national and international customers. But more important: About two-thirds of his customers say they research mattresses online before they come to the brick-and-mortar stores, and he wants the videos to supply them with more and better information so they'll be more comfortable buying.
"We want to add value to the shopping experience by fully explaining the product as opposed to just have a picture and some information written so they know what they're going to get," Miller said. "So that helps with either making a decision on the Internet or also arms them prior to going out and shopping."
Miller said he's investing about $300,000 in the effort.
The new website, scheduled to go live next month, is designed for use on desktop, tablet and mobile devices. The videos will run 30 seconds to two minutes and will feature salespeople walking customers through the facts about a mattress, just as they would do in the store.
The videos will also feature graphics from the manufacturer so the customer will get a clear picture of what type of bed they'd be getting.
"The video is the centerpiece because we're able to add just a little bit of the flavor of the sales associate's personality and personal touch," Diedrick said.
Early struggle
Miller started his company with a single store in 1980. He struggled to survive through years of sluggish sales, but thrived after he started advertising on the Howard Stern radio show.
His TV and radio ads are among the best known of any local retailer thanks to catch phrases such as "You're killing me, Larry" and guaranteeing the lowest price "or your mattress is fre-e-e!"
Now the Gardena chain has 32 stores across Southern California, with plans to soon add four – one each in San Clemente, San Dimas, Torrance and the northwest San Fernando Valley. For more than a decade, its Culver City store has been the largest seller of mattresses in the country, moving $9 million worth of merchandise last year. Sit 'N Sleep had revenue of $120 million in sales last year and a workforce of about 250. Miller credits his co-principal, company President Nelson Bercier, for much of the success.
E-commerce continues to be important to many retailers. The Census Bureau reports that national e-commerce sales were $71.2 billion in the first quarter, up from $61.9 billion a year ago. They were 6.2 percent of total retail sales in the first quarter, compared with 5.5 percent last year.
For Sit 'N Sleep, online sales now make up less than 10 percent of its business but they've doubled since 2010.
Miller hopes that the new website will help it expand online sales outside Southern California. Sit 'N Sleep has made online sales to customers in Beijing, Hong Kong and other parts of the world where U.S.-made mattresses cost a premium.
Miller explained that a mattress retailing for $3,000 in the United States may sell for $15,000 in China. This presents an opportunity for U.S.-based companies to sell the consumers the same good at a lower cost; even if shipping costs more than the mattress itself.
He acknowledged that selling a mattress online is difficult because consumers want to touch and feel the product before they buy it, but having a trusted brand name and quality service helps make the online experience feel more like the physical experience.
Alex Evans, managing director at retail specialist LEK Consulting in Westwood, said that it's tough to duplicate the experience of mattress shopping online. He also notes that online shoppers have "return anxiety" and that might be a problem for a big product such as a mattress.
"It seems like almost everything is moving online," he said, "but this is a category that is harder."
Miller said online sales are probably not going to become a huge part of his business, but he does expect them to grow.
"I think we're going to double this year," he said. "I don't know that it's ever going to become a gigantic part of the business. But we need to be there, we need to be focused, we need to be sharp and we need to give the best service we can online."
For reprint and licensing requests for this article, CLICK HERE.