Hitting Hard
Hard-money lending – loans against hard assets such as real estate – is on the rise in Los Angeles.
Monday, June 30, 2014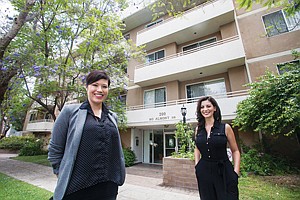 Ukrainian oligarch might be looking to buy some million-dollar homes in the Hollywood Hills. Or a veteran real estate developer might need to close on an office building before hitting a tax deadline. Or an NBA star might want to borrow against his contract to make payments on his houses while he's short on cash.
They can all turn to hard-money lenders, companies that can finance transactions that banks can't. The loans are made not on the banking world's standard definitions of creditworthiness but against secured assets.
This type of lending is on the rise in Los Angeles as bankers, hamstrung by post-credit-crisis regulations that restrain risk-taking, can't make loans as freely as they might like amid a boom in real estate and an influx of foreign buyers. Also, lenders have a lot of cash on hand because their investors are seeking higher returns.
The term hard money is related to what backs the loan, which is a hard asset. Most hard-money lenders don't embrace that label; they prefer "bridge financing" or "alternative lending." They typically get their money from investors seeking double-digit returns and provide senior loans at a loan-to-value ratio of about 50 percent to 60 percent, giving them plenty of wiggle room to sell the asset for a profit if the borrower defaults and they have to take ownership. Interest rates are typically from about 8 percent to 12 percent. For junior loans, interest rates will be higher. A similar bank loan – if one were possible – could run as low as 3 percent in the current climate.
Such appetizing returns come with a certain amount of risk – there are reasons hard-money borrowers can't get cheaper bank loans, and the assets can lose value. But in this economic climate, hard-money lenders are more than willing to chance it.
While one theme in recent years has been banks' reluctance to loan amid tougher regulations, the opposite has happened in the hard-money world. There, investors frustrated by anemic yields from most fixed-income investments are lining up to put their money to work.
"I think the supply outweighs the demand for good loans at the moment," said David Rifkind, a managing director at George Smith Partners in Century City, which has been doing hard-money loans for more than 20 years. "There's no problem engaging interest in a good loan request right now. It's a wonderful time to be an intermediary, that's for sure."
Prev Next
For reprint and licensing requests for this article, CLICK HERE.