Developer to Shed Property as He Scales Tower
REAL ESTATE: Plaza deal comes as Kambiz Hekmat ramps up Westwood project.
Monday, June 30, 2014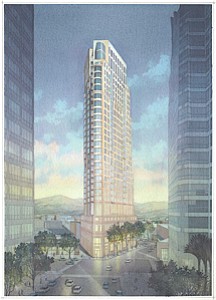 Westwood developer Kambiz Hekmat has agreed to sell the Murdock Plaza, a well-known 17-story red-brick office tower in Westwood, as he take steps to advance the development of what would be the neighborhood's tallest building.
The estimated $121 million deal for Murdock Plaza with New York's Tishman Speyer Properties came shortly after Hekmat hired Dan Rosenfeld to spearhead efforts to build a 29-story residential building on a triangle-shaped lot on Wilshire Boulevard at Gayley Avenue.
Hekmat's proposed residential project, on a former Hollywood Video site, received preliminary city approvals in 2012. It would be the largest of at least five ground-up developments in progress in and around Westwood Village, where developers have committed about $300 million to major construction projects.
Rosenfeld, who last summer resigned as economic development deputy for Los Angeles County Supervisor Mark Ridley-Thomas, has extensive experience in both public and private real estate sectors. His expertise in ushering projects through planning and construction phases could prove invaluable in a community known for its opposition to big development and, despite the flurry of construction activity, still remains a potent force.
Earlier this month, community resistance effectively halted the leasing plans for the retail portion of a mixed-use project by Beverly Hills real estate firm H5 Capital that is nearing completion cater-corner from Hekmat's proposed tower. On June 18, the West Los Angeles Area Planning Commission upheld an appeal made by the local property owners association that sought to bar the 34-unit residential project from leasing its 6,500 square feet of ground-floor retail space to restaurant tenants. The decision came nearly two years after the same commission approved plans that allowed for "restaurant or other food service uses" on the property. Two popular café-style eateries – Lemonade and Le Pain Quotidien – had already committed to occupying the space.
Bad Sign
Josh Simms, a partner at H5, said the city's last-minute reversal of approvals for the project doesn't bode well for Hekmat or any developer who might be eyeing projects in Westwood.
"Those guys better be careful, because if the city gives them approvals, who knows if they'll stand by them?" he said. "We relied on our approvals and spent a lot of money designing around those restaurants. If we lose them, that's going to be a very big hit to us. Any developer coming into Westwood now needs to be mindful of that."
The Gayley project won't be the first large-scale development Hekmat has undertaken in Westwood. In 1992, he built the 23-story Center West tower at 10877 Wilshire, which he continues to own and operate. Back then, he faced vehement community opposition to the project, including a lawsuit. He's had more luck with a smaller, more recent project, though. Last year, he began construction on 44-room extended-stay hotel Plaza La Reina, which he expects to complete in the next several months.
For reprint and licensing requests for this article, CLICK HERE.
Prev Next