Buying In?
RETAIL: Del Amo Fashion Center enters second phase of renovation with hopes tied to Nordstrom as big draw.
Monday, June 23, 2014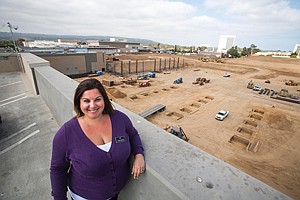 It's been eight years since anyone built a cathedral to suburban shopping – the enclosed mall – in the United States. L.A.'s poster boy for the ascendance of the outdoor shopping complex, Rick Caruso, has already pronounced the mall dead.
Against that backdrop, Simon Property Group Inc. has begun the second phase of its $200 million renovation of the 2.3 million-square-foot Del Amo Fashion Center, the largest mall in Los Angeles County.
The investment in the first phase of the renovation has drawn a series of smaller retailers to Del Amo, including Purity Cosmetics and Nike's Finish Line. By next month, jeweler Pandora and apparel firm Quiksilver are scheduled to open. But its biggest, and most controversial, coup was luring Nordstrom from the South Bay Galleria in Redondo Beach – about three miles away – with the promise of a custom-built, 138,000-square-foot space. That store is under construction and is expected to be completed in October 2015.
The addition of Nordstrom, more than how the mall is configured, could be the key to the revival of a fading property, said Howard Davidowitz, chairman of retail consulting and investment banking firm Davidowitz & Associates in New York. The presence of Nordstrom could help give Simon and its partner in the project, JPMorgan Fleming Asset Management Inc., the leverage they need to attract higher-end retailers.
"The malls that are doing worse are the small malls with Sears, J.C. Penney and all the middle-class stores, because the middle class has no money," he said. "Those gallerias that appeal to an upscale shopper – the Louis Vuitton and Prada and Neiman Marcus – those kinds of malls, by far, are doing the best."
Lindsay Hermance, Del Amo's director of marketing and business development, acknowledged that in addition to sprucing up, Simon, which manages the property, is seeking to expand its appeal.
"We're definitely looking for a diverse mix of retailers that will include more higher-end tenants than what we've had historically," she said.
Davidowitz was more succinct.
"I think what they're doing is an attempt to rescue the cash flow," he said. "They've got to keep the people who pay the rent. … And they have to give those specialty stores a reason to stay."
Nordstrom could be that reason.
"The one who provides the cash flow in the mall are not the anchor stores, it's the specialty stores who come in because of the anchor stores," he said. "I believe Nordstrom will make a gigantic difference for the positive."
Neighborhood spat
Simon acquired 25 percent ownership of the Del Amo Fashion Center in 2007 and took over operations in 2008. In January, the company said it had raised its ownership to 50 percent, but it gave no details of the transaction.
Nordstrom's lease at South Bay Galleria will expire next year. Del Amo was able to arrange the relocation from Redondo Beach after Torrance granted Simon an over-the-counter permit – generally approved only for minor modifications – to build the new store to Nordstrom's specs.
Redondo Beach sued Torrance shortly after Nordstrom and Simon announced the retailer's move to Del Amo in December 2012. By February 2013, both cities agreed to a tentative settlement that would require Simon to give Redondo Beach notice of its renovation plans.
Torrance Councilman Tom Brewer was initially underwhelmed when Simon presented its initial renovation plans two years ago. Now, he's impressed.
"I'm encouraged about the progress of the mall and how much it's going to help reinvigorate Hawthorne Boulevard," he said. "The mall has been looking tired for a long time. I hate to say it, but my family goes down to South Coast Plaza."
In addition to the new leases, Del Amo tenants Hollister Co. and Skechers are now in their new locations. Disney Store officially opened its renovated space June 21.
Simon, which had $5.3 billion in revenue last year, first announced its plan to remodel the mall in 2010. The first phase included remodeling the food court, which was completed at the end of last year. The gardenlike dining area saw several new eateries open, including Blaze Pizza and Sumo Salad. It also included interior renovations to the mall such as cushioned seating and new family restrooms.
The second phase of construction involved tearing down the old mall north of Carson Street. Part of the site will soon be turned over to Nordstrom for the retailer to begin building its two-story store. Construction has also started on a 2,000-car parking structure, which will connect directly to Nordstrom, as well as an estimated 400,000-square-foot, two-level shopping center.
"Retail has evolved a little bit," said Del Amo's Hermance. "We don't view ourselves as strictly a shopping destination. We have dining. We have entertainment. It's a place where people can come hang out with their families other than just shop."
For reprint and licensing requests for this article, CLICK HERE.