Bidders Quick to Move on Affordable Housing
REAL ESTATE: Subsidized building in Koreatown sells for more than $22 million.
Monday, June 23, 2014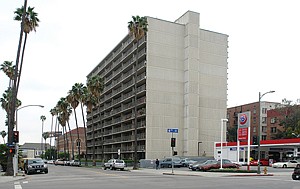 Correction: The partnership that purchased Christ Unity Manor was led by Vitus Group; Affordable Housing Access Inc. is a partner.
Late last summer, more than 40 potential investors toured Christ Unity Manor, a nondescript 12-story subsidized apartment building for sale in the heart of Koreatown. In the weeks that followed, a whopping 27 would-be buyers submitted qualified offers and, of them, 13 proceeded through an extensive interview process, eagerly pleading their cases to the non-profit entity that built and owned the property.
In the end, a partnership led by Affordable Housing Access Inc., a Newport Beach non-profit, purchased the 156-unit building for $22.5 million. After an eight-month escrow, the sale closed earlier this month.
So much activity might be normal for a bigger, higher-profile property, but in this case, brokers were surprised that an otherwise unremarkable building proved so attractive to investors.
"I knew we'd have tours and I figured we'd have several offers, but I didn't think we'd end up with 13 groups vying toe to toe," said David Casper, a vice president in the downtown L.A. office of Colliers International who along with Jeff Gould helped market the property.
The bidding war came amid a scarcity of affordable housing in Los Angeles County. A report released earlier this month by the California Housing Partnership Corp. said that the county still needs nearly 500,000 units to house very low- and extremely low-income households, many of them seniors.
Christ Unity Manor is one of a dwindling number of affordable housing properties built in the county in the '70s and'80s that can still take advantage of long-term, project-based rental assistance subsidies from the U.S. Department of Housing and Urban Development. Those programs, used to fund construction of affordable housing stock, were phased out by HUD in the early '90s. Only properties with existing contracts are eligible to renew.
Casper said the financial circumstances of the Koreatown property – an affordable housing facility for seniors – created the "perfect storm" for profit-seeking investors.
Part of the attraction of Christ Unity Manor was a 40-year, 1 percent HUD-subsidized loan that was about to come due, with minimal principal left on the note. The property also had two of those rare, long-term contracts with the department that were coming up for renewal and promised substantial monthly rent subsidies. The circumstances were about as close to ideal as possible for investors interested in keeping the building in the federal affordable housing program.
But there was competition.
Investors interested in converting the one-bedroom affordable units into market-rate apartments also saw an opportunity to reposition a property in a submarket where rental rates are on the rise.
Despite its prime location just a block away from the dense intersection of Wilshire Boulevard and Western Avenue, the quoted rate for units in the building is just $647 a month, though after subsidies most tenants pay far less. The average monthly rent in the Mid-Wilshire-Westlake area was almost twice that – $1,265 – this time last year, according to the most recent USC Casden Multifamily Forecast.
David Beacham, a director in the San Diego office of Vitus Group, which joined AHA's winning bid for the property, said the partners were attracted to Christ Unity Manor because it represented a rare affordable housing opportunity in Southern California.
"There are so few HUD towers still in the program," he said. "We're losing them all the time to market-rate developers. So for someone like us to acquire it and keep it affordable is something we were eager to do."
Property preservation
The seller, Christ Unity Manor Inc., built the apartment complex in 1973. The company is a non-profit entity affiliated with the neighboring Christ Church, a nondenominational congregation. Its board decided last year to sell the property in order to direct capital to other community missions.
"The board members wanted to ensure that the legacy of the property remain intact," said Christian Ziegler, an attorney with Woodland Hills law firm Rodnusky & Associates who represented the seller. "That was their first and foremost goal – that and to ensure that tenants would not be adversely affected by the sale."
As developer, Vitus promised to do just that and more. Before closing escrow, the developer went through a lengthy application process to renew the property's project-based HUD contracts for 20 more years and, by extension, the property's Section 8 status. As part of that process, Vitus also requested and received an increase in subsidies that would raise the effective rental rate to $1,300 a month – an additional $1.2 million in annual cash flow for the project. The increase in subsidies would not impact tenants. In exchange for the funding boost, the developer promised to spend $5.45 million on property renovations.
Vitus, which focuses on preserving affordable housing properties, has a portfolio of 92 properties with nearly 8,500 units in 16 states. About 2,400 of those are in California. The developer received an allocation of tax exempt bonds to support a low-interest loan issued by Citi Community Capital to finance the acquisition and renovations. It also received a reservation of federal low-income housing tax credits from the state that it then sold for $10.3 million to an investor, a common practice in the affordable housing program.
Accepting the tax credits and subsidized debt required that AHA and Vitus keep Christ Unity Manor an affordable housing property for seniors for the next 55 years.
Casper said there is likely to be plenty of demand: Fully occupied at closing earlier this month, the property has a wait list of more than 900 people.
"That demand really speaks to the lack of available affordable housing in Los Angeles," he said.
For reprint and licensing requests for this article, CLICK HERE.