Venturing Into A New Model
FINANCE: Shares in startups boost UCLA investment fund.
Monday, June 16, 2014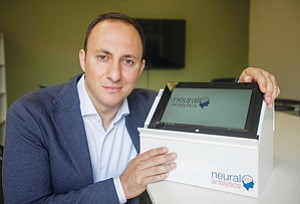 When Michael Howse joined the UCLA Venture Capital Fund, he wanted to bring young entrepreneurs into the fold who could help nurture even younger companies that had connections to the Westwood campus. But since the entrepreneurs were still bankrolling their own startups, they generally didn't have the $50,000 minimum donation.
But they did have something of value: equity in their companies.
So Howse, a Bruin alumnus and Silicon Valley veteran, brainstormed with the fund's executive chairman, Michael Silton, who decided to accept charitable contributions of illiquid stock in startup companies instead of cash. When those companies did turn their stock into cash, either by going public or selling shares to later investors, the fund gets money that it can use to invest in startups.
Proceeds from a liquidity event in those investments are not distributed to individual investors, as is typical in a private equity fund, but to the fund itself. Due to this charitable structure, donations to the fund are tax-deductible, which has helped recruit new members.
"We wanted to make the fund much more accessible to up-and-coming entrepreneurs," Howse said.
That was in 2007, when they first pioneered the concept of cashless giving. Since then, the UCLA VC fund has thrived. Its membership has grown by 30 percent in the last 18 months and it has invested in dozens of companies, the latest being Neural Analytics, a UCLA-based company trying to revolutionize the way doctors treat severe brain injuries.
"It's a virtuous cycle," Howse said. "An alumnus donates stock, we get liquidity on it and we help other alums."
The donors get no financial returns other than tax deductions. The fund, based at the campus, gets any financial benefit.
Reformatted fund
The fund was formed in the late 1990s by veteran VCs with UCLA connections looking to give the school a way to make money off the then-blistering tech startup ecosystem.
"The idea was to create a fund that would invest alongside the venture capitalists in hot deals," Howse said. "And the university would get the benefit of the liquidity event."
When the tech bubble burst and those deals dried up, the fund began its metamorphosis into its current form. Silton, a UCLA grad who founded business technology company Rainmaker Systems Inc. in the Bay Area city of Campbell and took it public in 2000, spearheaded the changes.
The UCLA fund now requires members to contribute a minimum of only $10,000 in private company stock, stock options or cash. These contributions are called donations, not investments, because proceeds from liquidity events go toward new investments, programs to raise awareness of the fund and back to the university.
The fund's membership is now four-fifths entrepreneurs, with the remainder being mostly finance professionals. Ninety-seven percent of its members give stock, not cash.
While the illiquid stock can't be redeemed for cash at the time it is contributed, a few shares of a hot startup can turn into a huge score if the company goes public or is acquired. The fund's most recent liquidity event, involving the sale of shares of San Francisco social media company Twitter Inc., delivered a return of about 20 times the value of the original contribution. The donor of the Twitter shares, a UCLA alum, got a tax deduction.
Donated stock in Palo Alto cloud computing company Cloudera and Calabasas cosmetic pharmaceutical company Kythera Biopharmaceuticals Inc. have also brought in significant windfalls.
"When we get illiquid stock, it's a donation," Howse said. "In many cases, those donations turn into pretty valuable assets."
Of course, if a liquidity event doesn't happen or if the company folds, the fund gets nothing. This was a risk Howse and Silton were willing to take to bring stock-rich but cash-poor company founders into the fold.
The types of shares entrepreneurs donate to the fund are similar to those usually given to an adviser of an early-stage company. That's aligned with how Howse sees the fund, more as a source of networking than finance. The fund's network of industry vets and their connections to Silicon Valley cash was particularly attractive to the chief executive of its newest portfolio company.
Head start
Leo Petrossian founded Neural Analytics after working for a DNA sequencing startup in Rhode Island that had raised more than $50 million from investors but wasn't gaining momentum. Petrossian and his neurologist wife, Melita, both natives of Los Angeles, got tired of waiting and decided to return home. She got a job at the UCLA Health System and he enrolled in the M.B.A. program at the university's Anderson School of Management. The degree wasn't the only thing Petrossian was pursuing. He was also seeking medical technology that he could turn into a company.
"I came to UCLA looking for technology that could be used to build a medical device that was ready to go to market and that could go after a really big problem," he said.
Petrossian found what he was looking for when he met two graduate students, Robert Hamilton and Dan Hanchey, who had been working on brain scanning technology for several years. He joined them and they developed a product that uses ultrasound waves to determine the intracranial pressure of someone who had suffered a brain injury, which previously required a doctor to drill a hole in the patient's skull. That measurement is often necessary to determine the proper course of treatment for a patient with brain trauma.
Petrossian then reached out to the UCLA Venture Capital Fund, which has helped him and his team secure outside financing, introduced them to vendors and worked with them to streamline the operation.
Neural, which recently moved into a new West L.A. office, already received $2 million in seed funding led by biotech entrepreneur-turned-angel investor Yuri Pikover.
However, the company will need a lot more money to scale to the level where the business can be positioned for a sale, which is Petrossian's long-term goal. Raising that Series A round is where Petrossian believes the UCLA fund will be most helpful. He plans to use the UCLA fund's expansive network outside the city to open doors to some of those larger venture capital investors in the Silicon Valley and beyond.
While other universities play the venture capital game, UCLA runs the only fund that allows members to contribute illiquid stock instead of cash. Stanford University has had its own on-campus accelerator, StartX, since 2009 and last September the university announced it was forming its first dedicated fund that would invest directly in Stanford-affiliated startups. Individual Stanford professors have invested in student startups for a long time, making a handful of them very rich.
The University of Utah sponsors the University Venture Fund, a student-managed fund that invests alongside big name VCs such as Menlo Park's Draper Fisher Jurvetson. It has more than $18 million under management.
The UCLA fund's distinctive membership structure has shaped its culture to be more of an incubator or club than a mostly financial sponsor like the Stanford and Utah funds.
Howse sees the fund continuing to evolve as a place where aspiring founders can bounce ideas off of grizzled Bruins who have already made it.
"If I'm a budding entrepreneur and I want to get good advice, who do I tap into?" Howse asked. "We want to provide that."
For reprint and licensing requests for this article, CLICK HERE.